Page Menu
COVID-19 mRNA Vaccines Explained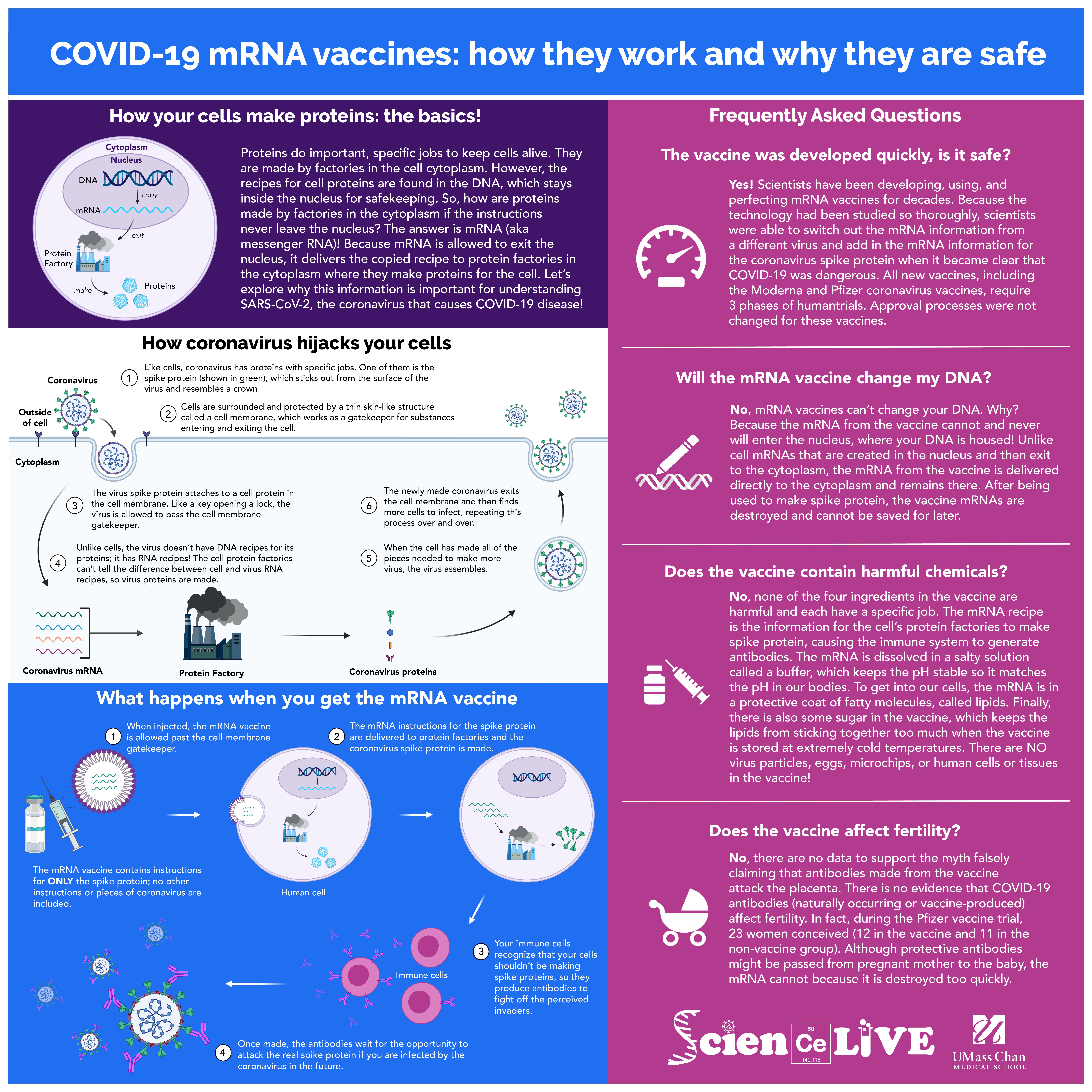 Request Printed Poster Download Poster PDF
For more resources on the vaccines, including ingredients, please see below:
Efficacy and Safety of mRNA Vaccines:
Dispelling Common Myths

Coronavirus mRNA vaccines do not cause infertility:
mRNA vaccines based on 3 decades of research:


mRNA Vaccine Ingredients:

Moderna: Messenger ribonucleic acid (mRNA), lipids (SM-102, polyethylene glycol [PEG] 2000 dimyristoyl glycerol [DMG], cholesterol, and 1,2-distearoyl-sn-glycero-3-phosphocholine [DSPC]), tromethamine, tromethamine hydrochloride, acetic acid, sodium acetate, and sucrose.
Pfizer: mRNA, lipids ((4-hydroxybutyl)azanediyl)bis(hexane-6,1-diyl)bis(2-hexyldecanoate), 2 [(polyethylene glycol)-2000]-N,N-ditetradecylacetamide, 1,2-Distearoyl-sn-glycero-3- phosphocholine, and cholesterol), potassium chloride, monobasic potassium phosphate, sodium chloride, dibasic sodium phosphate dihydrate, and sucrose.
COVID-19 mRNA Vaccines Infographic created with Biorender by Dr. Angela Messmer-Blust, edited by Dr. Mary Pickering.