Page Menu
Dr. Brown vs ALS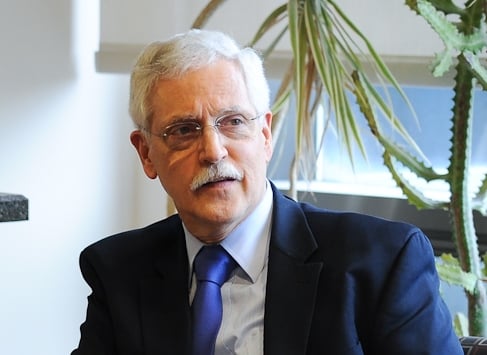 Robert H. Brown Jr., DPhil, MD, the Donna M. and Robert J. Manning Chair in Neurosciences and director of the Program in Neurotherapeutics at UMass Chan Medical School, is an internationally known researcher and physician leading the quest to cure neurodegenerative and neuromuscular diseases like amyotrophic lateral sclerosis (ALS), also known as Lou Gehrig's disease.
Renowned for his groundbreaking basic and clinical research on the inherited and genetic basis of neurodegenerative and neuromuscular diseases, Dr. Brown has a record of significant discoveries in identifying gene defects that elucidate how ALS causes neurons to die. In 1993, a team of researchers led by Dr. Brown discovered the first gene linked to the inherited form of ALS, called SOD1.
Each year, it is estimated that 5,000 people in the United States are newly diagnosed with ALS, a progressive, neurodegenerative disorder affecting the motor neurons in the central nervous system. As motor neurons die, the brain's ability to send signals to the body's muscles is compromised, leading to the loss of voluntary muscle movement, paralysis and eventually death from respiratory failure. The average survival rate for patients with ALS is three to five years.
ALS is a fundamentally untreatable disease, and its cause is still not entirely understood. About 10 percent of ALS cases arise because of inherited genetic defects. The cause of the remaining 90 percent of cases, known as sporadic ALS, is still unknown. One hypothesis is that in these cases, the disease is triggered by a combination of genetic susceptibility and exposure to one or more adverse environmental factors. For example, there is growing evidence that head trauma may predispose patients to ALS and related cognitive decline.
Development of new therapeutics to treat ALS depends on better understanding how the disease works. In October 2010, Brown and his team at UMass Chan reported evidence suggesting that the SOD1 gene, which is implicated in 20 percent of inherited cases of familial ALS, also plays a part in the more common, sporadic forms of the disease. Brown's research showed that under certain conditions and absent a mutation in the gene, a normal SOD1 protein can have the same toxic characteristics that are found in mutated forms of the gene. In select cases of sporadic ALS, these toxic proteins are present.
When he began researching ALS over 20 years ago, Dr. Brown believed that one day his work to identify the genes implicated in the inherited form of ALS would yield new insights into the more common, sporadic form of the disease. These findings are the first evidence that genes implicated in inherited ALS also play a role in the sporadic form of the disease.
Dr. Brown joined UMass Chan in May 2008, in part, because of the work of its internationally known scientists unraveling the mechanisms that turn genes on and off. UMass Chan is home to some of the world's leading researchers in the field of RNA biology (RNA interference or "RNAi," is a gene-silencing mechanism for which UMass Chan Professor Craig C. Mello shared the Nobel Prize in Physiology or Medicine in 2006), which Dr. Brown believes holds immense potential as a therapeutic for neurodegenerative diseases such as ALS, with its ability to create and regulate the complex patterns of gene expression. Initiated by Dr. Brown, an ALS-related arm of these efforts includes a program to silence the activity of mutant ALS genes that make the toxic proteins that trigger the disease. Working in conjunction with researchers at the Horae Gene Therapy Center at UMass Chan, Dr. Brown is accelerating efforts to devise novel gene therapies that can access the brain and spinal cord for diseases such as ALS.
Shortly after joining UMass Chan, Dr. Brown and his colleagues identified a new genetic mutation linked to ALS which is estimated to account for 5 to 10 percent of inherited cases. Discovery of this mutation, called FUS/TLS, was named one of the most cited papers from 2008 to 2010 by Thomson Reuters. Though it's still not clear how the FUS/TLS mutation causes ALS, scientists know that the FUS/TLS protein plays a number of roles in the neuron cell. In healthy neuron cells, the FUS/TLS protein is located predominately in the cell nucleus. Samples from patients with the FUS/TLS mutation show a concentration of the FUS/TLS protein in the cytoplasm of the cell, however, outside of the nucleus. This misplaced protein is believed to contribute to cell death in neurons.
Dr. Brown has also identified disease genes in other inherited neurodegenerative and neuromuscular diseases such as hyperkalemic periodic paralysis, Miyoshi muscular dystrophy and hereditary sensory neuropathy.
Dr. Brown and his team have been very fortunate to receive support from a diversity of groups, including the locally-based organization, Angel Fund, and national partner, CVS Pharmacy, both of which have been raising money for ALS research for more than 10 years.
Outside of the lab, Dr. Brown is known as a compassionate clinician and physician, caring for patients suffering from neurodegenerative diseases. He is well known for his work with patient advocacy groups and charitable organizations, such as Project ALS and the ALS Therapy. He is also a founding member of the Northeast ALS Study Consortium and is president of the ALS Therapy Alliance's Board of Directors.
Dr. Brown has received many honors for his extraordinary commitment to finding cures for neuromuscular diseases, including induction into the Institute of Medicine. He was also the recipient of the National A.L.S. Foundation Fellowship from 1980 to 1982, Plenary Lecturer at the American Academy of Neurology in 2002 and 2007, and is a member of the American Neurological Association. In 2011 he was named a member of the Association of American Physicians (AAP).
Dr. Brown graduated from Amherst College with a degree in biophysics in 1969. He went on to complete a doctorate of philosophy in neurophysiology at Oxford University and received his medical degree from Harvard Medical School in 1975. Following medical school, Dr. Brown completed his internship in internal medicine at Peter Bent Brigham Hospital and his residence in neurology at Massachusetts General Hospital. In 1983, Dr. Brown completed a research fellowship in neuroscience at Children's Hospital in Boston.
In 1975, Brown joined Harvard Medical School as a clinical fellow and rose to the rank of professor of neurology in 1998, while also serving as Director of the Day Neuromuscular Laboratory and of the Muscular Dystrophy Association Clinic. Internationally recognized for its research and clinical care programs, Brown founded the Day Neuromuscular Laboratory in 1984 to investigate neuromuscular diseases. Dr. Brown continues his work with the Day Neuromuscular Laboratory today at UMass Chan Medical School.
---
Please note: On Sept. 7, 2021, UMass Medical School became UMass Chan Medical School, thanks to a history-making gift from The Morningside Foundation.