Page Menu
Governor Cellucci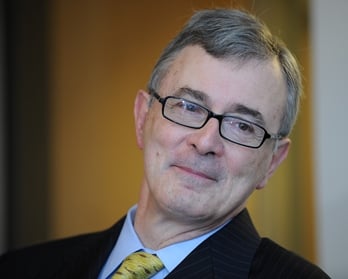 It wasn't long after former Governor Paul Cellucci was diagnosed with amyotrophic lateral sclerosis (ALS) that he discovered a new calling, one that fit with his long history of public service as an elected official and diplomat. He was so impressed with the work of his doctor, Robert H. Brown Jr., DPhil, MD, the Donna M. and Robert J. Manning Chair in Neurosciences, and director of the Program in Neurotherapeutics at UMass Chan Medical School (at the time, named UMass Medical School), that he pledged to help raise money to support Dr. Brown's research.
"It was clear to me after the first couple of appointments with Dr. Brown, that I was probably with the best person in the world to be treating ALS," Cellucci said in 2011. "He's just someone who will leave no stone unturned in trying to help his patients. I was very impressed with that and I told him early on I would like to help raise money for his research to continue." Cellucci died from complications of ALS on June 8, 2013. He was 65.
A native of Hudson, Mass., Cellucci had kept an active work schedule and enjoyed a "quiet, private life" with his family upon leaving public office after 35 years. However, his leadership in this effort—launched as the UMass ALS Champion Fund in 2011—to raise money to support Brown's research had energized him to re-enter public life.
"In establishing this initiative, Paul wanted to shine a light on UMass Medical School and the important work of Dr. Brown," said Jan Cellucci in 2014 when the Champion Fund became the Cellucci Fund. "He also wanted to give hope to those patients and family members struggling with ALS."
Following graduation from the Boston College School of Management in 1970, Cellucci became active in local government, entered law school and joined the U.S. Army Reserves. He graduated from Boston College Law School in 1973 and continued to serve in the Reserves, earning an honorable discharge at the captain's rank in 1978. He also worked in his family's automobile dealership and pursued a private legal practice in Hudson. In 1976, Cellucci was elected a member of the Massachusetts House of Representatives, where he served until 1984, when he began three terms in the state senate.
Cellucci was elected as Gov. William Weld's Lieutenant Governor in 1990 and was sworn in as Governor to complete the remainder of Gov. Weld's term of office in 1997. He was elected Governor in his own right in 1998. A strong advocate for smaller government and lower taxes, as Governor, Cellucci proposed a reduction in the Massachusetts income tax on his first day in office. During his 10-year tenure in the executive office, he was a leader in education reform, increased access to health care, the fight against domestic violence and cutting taxes.
In 2001, President George W. Bush named him U.S. Ambassador to Canada. In his role as ambassador, Cellucci served for four years to strengthen and grow the trading relationship between the United States and Canada, expedite border crossings for commercial and passenger vehicles, continue the integration of the North American energy market, and help resolve trade disputes. These responsibilities were particularly challenging to address following the September 11, 2001, terrorist attacks, when security immediately became the ambassador's top priority.
When Cellucci left his post at the U.S. Embassy in Ottawa, he returned to work in the private sector focusing on U.S.-Canada initiatives that continue to strengthen the economies of these two nations, the largest bi-lateral economic relationship in the world. Cellucci joined the government relations consulting group ML Strategies in March 2013, following his longtime political ally, Gov. Weld, into the firm led by their former Secretary of Economic Affairs Steve Tocco. At the time of his passing, Cellucci was working on developing Canadian energy clients for the firm.
In launching the Champion Fund in 2011, Cellucci oversaw an effort that had immediate success and made important impacts on the ALS research being conducted in Brown's laboratory at UMass Chan Medical School. Cellucci enjoyed the support of prominent business and political leaders including Massachusetts Gov. Deval Patrick, all of the former governors of the commonwealth, former Lieutenant Gov. Timothy Murray and former White House Chief of Staff Andrew Card. As chair of the campaign, Cellucci played a role in securing countless major gifts, including a $500,000 donation from Biogen Idec in 2012.
"He won every race he ran, all the way up to governor," said UMass Chan Medical School Chancellor Michael F. Collins, who announced Cellucci's death at the request of his family. "But he wanted ALS research, not politics, to be his legacy. Even though he had an extraordinarily challenging diagnosis, he was on the phone, raising funds. He wanted to do whatever he could to contribute."
---
Please note: On Sept. 7, 2021, UMass Medical School became UMass Chan Medical School, thanks to a history-making gift from The Morningside Foundation.