Page Menu
Shape Memory Graft-guided Bone Regeneration
1. Thermoplastic SMPs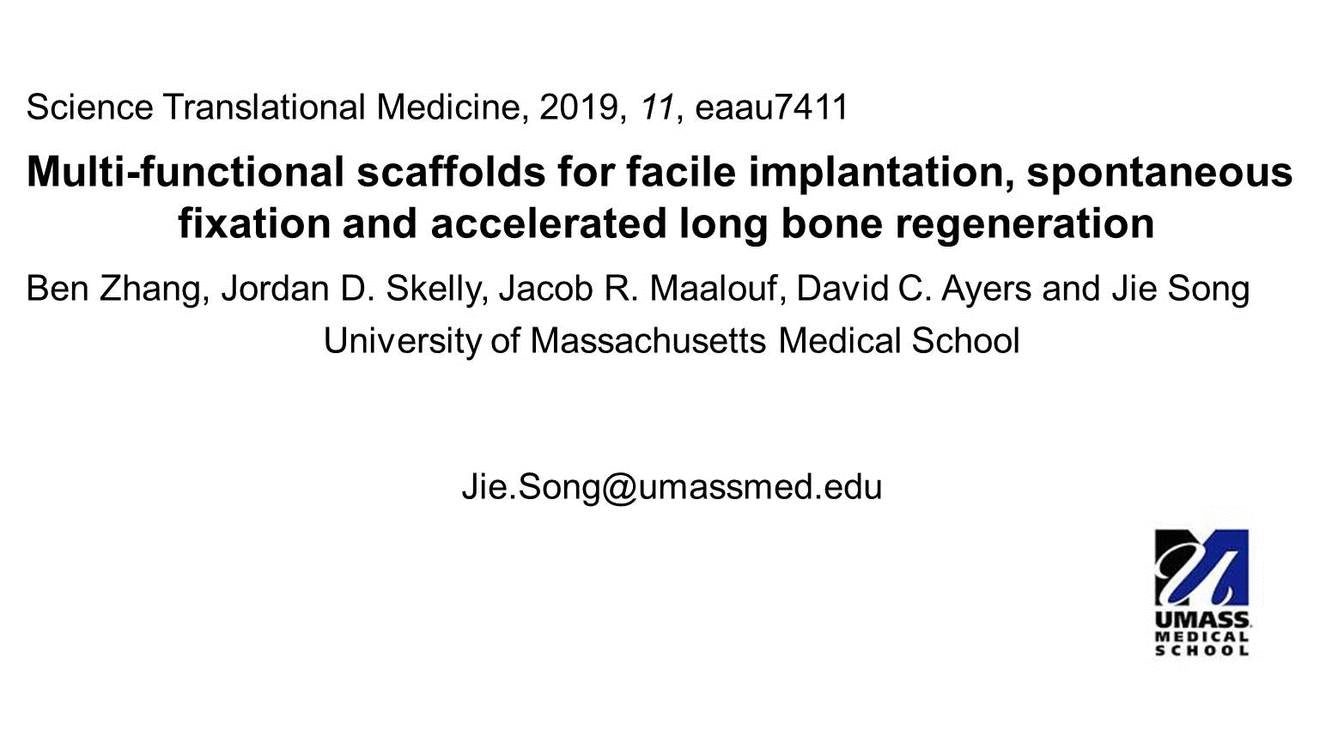 Read our publications on thermoplastic SMPs:
Xiaowen Xu and Jie Song. "Bone Grafting in the Regenerative Reconstruction of Critical-Size Long Bone Segmental Defects" in Bone Tissue Engineering: Bench to Bedside Using 3D Printing, Fernando P.S. Guastaldi and Bhushan Mahadik Ed., Springer Nature Switzerland, ISBN 978-3-030-92013-5, ISBN 978-3-030-92014-2 (eBook), 2022, pp 165-192, doi 10.1007/978-3-030-92014-2_8. View Publication
Xiaowen Xu#, Jing Zhang#, Tera Filion, Ali Akalin and Jie Song (#equal contribution). Modulating mechanical and shape-memory properties while mitigating degradation-induced inflammation of polylactides by pendant aspirin incorporation. ACS Appl Mater Interfaces. 2021, 13(19), 22271-22281. View Publication
Ben Zhang, Jordan D. Skelly, Jacob Maalouf, David C. Ayers and Jie Song. Multi-functional scaffolds for facile implantation, spontaneous fixation and accelerated long bone regeneration in rodents. Science Translational Medicine. 2019; 11(502):eaau7411.
Ben Zhang and Jie Song. 3D Printed Biomaterials for Guided Tissue Regeneration. Small Methods. 2018; DOI: 10.1002/smtd.201700306.
Zhang B, DeBartolo JE, Song J. Shape Recovery with Concomitant Mechanical Strengthening of Amphiphilic Shape Memory Polymers in Warm Water. ACS Appl Mater Interfaces. 2017 Feb 08; 9(5):4450-4456. PMID: 28125208.
Ben Zhang, Tera M. Filion, Artem B. Kutikov and Jie Song. Facile Stem Cell Delivery to Bone Grafts Enabled by Smart Shape Recovery and Stiffening of Degradable Synthetic Periosteal Membranes. Adv. Funct. Mater. 2017; 1604784.
Kutikov AB, Song J. Biodegradable PEG-Based Amphiphilic Block Copolymers for Tissue Engineering Applications. ACS Biomater Sci Eng. 2015 Jul 13; 1(7):463-480. PMID: 27175443.
Kutikov AB, Reyer KA, Song J. Shape Memory Performance of Thermoplastic Amphiphilic Triblock Copolymer poly(D,L-lactic acid-co-ethylene glycol-co-D,L-lactic acid) (PELA)/Hydroxyapatite Composites. Macromol Chem Phys. 2014 Dec; 215(24):2482-2490. PMID: 26457046.
Kutikov AB, Gurijala A, Song J. Rapid prototyping amphiphilic polymer/hydroxyapatite composite scaffolds with hydration-induced self-fixation behavior. Tissue Eng Part C Methods. 2015 Mar; 21(3):229-41. PMID: 25025950.
Kutikov AB, Song J. An amphiphilic degradable polymer/hydroxyapatite composite with enhanced handling characteristics promotes osteogenic gene expression in bone marrow stromal cells. Acta Biomater. 2013 Sep; 9(9):8354-64. PMID: 23791675.
2. Thermoset SMPs
Read our publications on weight-bearing thermoset SMPs:
Xiaowen Xu, Jordan Skelly and Jie Song. Chemically crosslinked amphiphilic degradable shape memory polymer nanocomposites with readily tuned physical, mechanical, and biological properties. ACS Appl Mater Interfaces 2023, 15(2), 2693-2704. View Publication
Xu J, Song J. High performance shape memory polymer networks based on rigid nanoparticle cores. Proc Natl Acad Sci U S A. 2010 Apr 27; 107(17):7652-7. PMID: 20375285.
Filion TM, Xu J, Prasad ML, Song J. In vivo tissue responses to thermal-responsive shape memory polymer nanocomposites. Biomaterials. 2011 Feb; 32(4):985-91. PMID: 21040968.
Jianwen Xu and Jie Song. Shape Memory Polymers for Biomedical Applications (A volume in Woodhead Publishing Series in Biomaterials), L'Hocine Yahia Ed. Chapter 10: Polylactic acid (PLA)-based shape-memory materials for biomedical applications. 2015.
View Publication.
Jianwen Xu and Jie Song. Engineering Polylactic Acid with Thermal-responsive Shape Memory Effect for Medical Applications, Chapter 11. Polylactic Acid: Synthesis, Properties and Applications, Vincenzo Piemonte Ed.Polylactic Acid: Synthesis, Properties and Applications, Vincenzo Piemonte Ed. 2012.
Jianwen Xu and Jie Song. Thermal responsive shape memory polymers for biomedical applications, Chapter 6. Biomedical Engineering - Frontiers and Challenges, Reza Fazel Ed. 2011; 125-142.