Page Menu
Message from the Vice Provost & Senior Associate Dean for Educational Affairs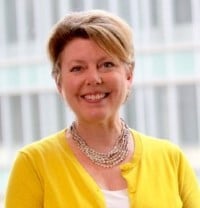 Welcome to UMass Chan Medical School and the Office of Educational Affairs (OEA). Founded as the operational core for the T.H. Chan School of Medicine's education mission we develop resources, programs and services to give learners across the spectrum of clinical education the tools to overcome the challenges of health care delivery in the twenty first century.
The departments, resources and academic initiatives of Educational Affairs are directed by nationally recognized faculty and staff who are credited with serving as champions for the educational health and wellbeing of our student body. We strive to provide a supportive earning environment where you can maximize your potential.
I truly believe it is an exciting time to be associated with the UMass Chan Medical School.
Anne C. Larkin, MD, FACS
Vice Provost for Educational Affairs, UMass Chan
Senior Associate Dean of Educational Affairs, T.H. Chan School of Medicine