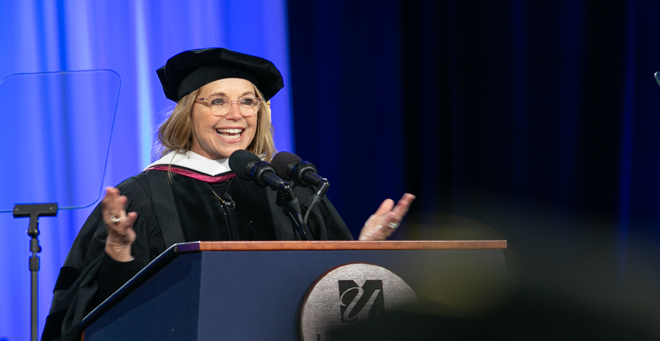 UMass Chan Medical School welcomed family, friends, alumni and faculty to the campus green on Sunday, June 4, for the 50th Commencement, celebrating classes from the Tan Chingfen Graduate School of Nursing, the Morningside Graduate School of Biomedical Sciences and the T.H. Chan School of Medicine.
Katie Couric, former host of NBC's Today show and anchor of CBS Evening News, and co-founder of cancer research charity Stand Up To Cancer, was presented with an honorary Doctor of Humane Letters degree and delivered the Commencement address.
Couric shared her personal story of overcoming the tragic losses of her husband to colon cancer and her sister to pancreatic cancer, as well as her own battle with breast cancer. She encouraged graduates to challenge an inequitable health care system and to maintain a human connection with their patients, especially as technology in medicine continues to evolve.
Above all, Couric emboldened members of the Class of 2023 to take pride in their chosen professions and be proud to be a graduate of UMass Chan.
"You are my heroes," Couric said. "You save lives. Your work changes lives. You are there for others in times of great joy and times of tremendous sadness. Whether you're delivering difficult news or delivering a baby, encouraging a patient to take their meds or checking their vitals, discovering a new drug for ALS or overseeing a promising clinical trial, you matter so much."
Honorary degrees were also awarded to Luke O'Neill, PhD, chair and professor of biochemistry at Trinity College Dublin and trusted voice for science and public health in Ireland; and Tania Issa Semaan, chair of Blu Stone Management Ltd, a Dubai-based investment firm, and co-founder and director of The Semaan Foundation, a philanthropic organization supporting efforts in the fields of education, health care and social welfare.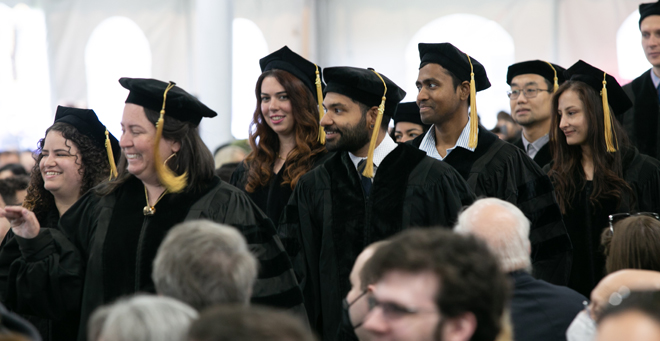 Chancellor Michael F. Collins presided over the ceremony, presenting 151 Doctor of Medicine degrees, 10 MD/PhD degrees, 62 Doctor of Philosophy degrees and five Master of Science in Clinical Investigation degrees, 54 Doctor of Nursing Practice degrees, three PhD in Nursing degrees, and one postgraduate certificate.
"There is a simple truth. Nursing, science and medicine at its best is what our graduates represent," said Chancellor Collins, remarking on the extraordinary challenges many of the students faced when the COVID-19 pandemic hit within months of their arrival at UMass Chan. "Today, all of you are bound by an unmistakable realization that you have been changed by your time at this medical school and by once unimaginable challenges. Throughout our time together, we have been guided by a mission to change the course of the history of disease."
Graduate Victoria Fleming, MD, who will soon begin her neurology residency at University of California-Irvine, said, "I think the biggest thing doing rotations in the pandemic taught me is that despite everything, medicine is very much a team sport. We all have each other's backs, and there's a lot of trust and a lot of supporting each other."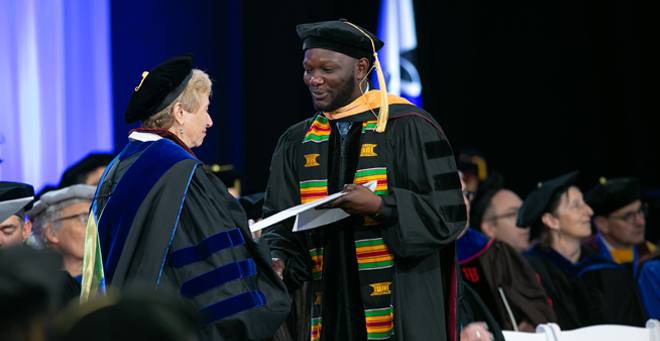 Nursing graduate Brad Daniels-Demers, DNP, a hospitalist at UMass Memorial - Harrington Hospital, said, "It's been a long road and a dream of mine to complete my degree." He said the bonds and friendships he formed at UMass Chan with his classmates over the past four years have instilled in him the importance of collaborating with his peers.
Class speakers included Sean Boyden for the T.H. Chan School of Medicine, Kathleen Morrill for the Morningside Graduate School of Biomedical Sciences and Amanda Hazeltine for the Tan Chingfen Graduate School of Nursing.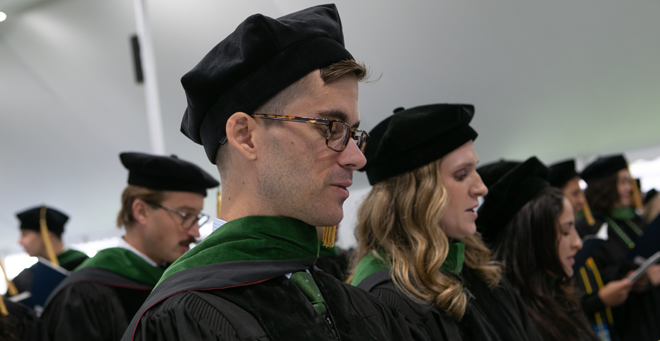 Abigail Smith, MD, PhD, will be leaving UMass Chan to start a pediatrics residency at Boston Children's Hospital and hopes to pursue a career in academia and nephrology research.
"I've always wanted to do some clinical work, and work with children," Smith said. "Obtaining my MD and PhD, I also get the opportunity to improve medicine and work toward curing diseases."
Graduate Kevin Makhoul, MD, who is headed to an ophthalmology residency at KU Eye Center at the University of Kansas, said completing his studies is "bittersweet."
"UMass Chan has prepared me well. We had a great education and I think I'm going to miss the mentors we had here the most. They're always there when you need them and whenever I had any questions about what to do next, there were people there to give me guidance," Dr. Makhoul said. "It's sad to leave, but I'm excited for the next steps."
Highlights of the week's events can be found on the UMass Chan news page. Photos and videos are posted on Facebook and Instagram. The full Commencement ceremony can be viewed on the UMass Chan YouTube page.
Read Chancellor Collins' full remarks.
Related media coverage:
Telegram & Gazette slideshow