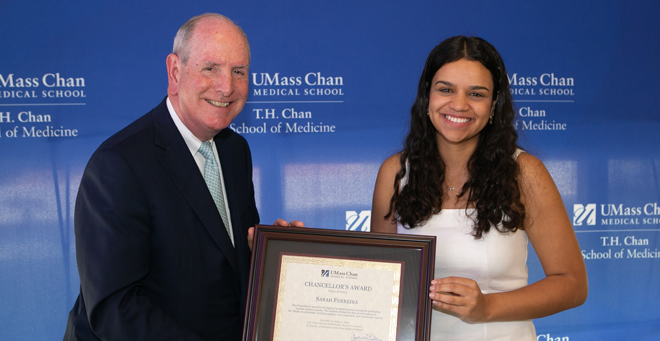 Members of the T.H. Chan School of Medicine Class of 2023 gathered on Friday, June 2, for the annual awards breakfast and scholarship ceremony.
In her opening remarks, Anne Larkin, MD, associate professor of surgery and vice provost and senior associate dean for educational affairs, addressed the 151 medical school graduates, saying, "Let me assure you that you are completely prepared to be great residents and great physicians. While some of you will receive specific awards, all of you will receive the most important reward of becoming a physician, and the privilege of caring for your patients over the decades to come."
Chancellor Michael F. Collins presented the Chancellor's Award, the highest award to a graduating student, to Sarah Ferreira, who matched into a medicine and pediatrics residency at Massachusetts General Hospital.
Ferreira immigrated with her family from Brazil to Cape Cod when she was 14. She is a graduate of UMass Amherst and an alumna of the UMass Baccalaureate MD Pathway Program, which helps students from diverse and underrepresented backgrounds prepare for successful matriculation to medical school.
In his presentation to Ferreira, Chancellor Collins said, "I'm especially proud to be giving this award to a UMass Amherst alumna. I'm very happy to say Sarah, that you are a testament to the power of a Massachusetts public higher education. We are indeed proud to call you one of our own and we are grateful for your service to our campus community and for the academic prowess you've demonstrated."
More than 30 awards were presented to dozens of graduating medical students and faculty during the ceremony.
The awards breakfast ended with a special promotion ceremony for medical students Annie Thornton and Michael Urbanowski, who completed their medical school careers through the Health Professional Scholarship Program funded by the U.S. Department of Defense. The program supports members of the U.S. Armed Forces and covers medical school tuition and provides specialized officer training.
U.S. Army Captain Jorge Acevedo, MD, a resident in emergency medicine, administered the oaths of office and promotions of Second Lieutenant Thornton to Captain in the U.S. Army and Ensign Urbanowski to Lieutenant in the U.S. Navy.
"Annie and Michael, your selfless service acts to volunteer in the profession of arms, is a sign of your fortitude, your commitment to service and your character," Acevedo said.
The full awards breakfast and scholarship ceremony can be viewed on the UMass Chan YouTube page.
T.H. Chan School of Medicine Class of 2023 award recipients are:
Chancellor's Award
Sarah Ferreira
Certificate of Appreciation for Leadership in the Learning Environment
Scott Ewy, Sam Fox, Bryce Pepin
Outstanding Accomplishment in the Longitudinal Capstone Scholarship and Discovery Course
Kendall Burdick, Sarah Calove, Kevin Dickson, Hyunji Do, Mitali Doshi, Victoria Fleming, Jacob Gitlin, Peter Keefe, Vivian Liu, Elizabeth Markis, Eve Marie Manghis, Claire Meyerovitz, Linh Nguyen, Molly Olmsted, Ashwin Panda, Gabriella Paquette, Victoria Powell, Abhinav Prasad, Coleman Riordan, Grace Elizabeth Ryan, Hannah Spalding, Bennett Vogt
Senior Scholars Award for Achievement in Research
Connie Ge, Sophia Landay, Nishwant Swami
Student STAR Award: Choosing Wisely
Bennet Vogt
Student STAR Award: EPC
Trenton Taros
Interprofessional Trainee Quality Council
Scott Ewy, Jaclyn Wong
Remillard Family Community Service Fund Recipients
Ukpong Etteh, Sean Boyden, Abhinav Prasad, Jeremiah Hyslip, Michael Wang, Alice Kennedy, Sweet, Linh Nguyen, Amy Cheung
Mick Godkin Scholarship
Emily Chin, Sabahat Rahman, Vanya Zvonar
Massachusetts Medical Society Scholars Award
Scholars: Calvin Schaffer, Jennifer Sullivan
Finalists: Zaineb Dar, Symren Dhaliwal, Holly Shillan, Nishwant Swami
American Women's Medical Association Award, Glasgow-Rubin Citations for Academic Achievement
Holly Shillan (American Medical Women's Association Janet M. Glasgow Memorial Certificate of Commendation)
AMWA citations for Academic Achievement: Maimuna Ahmad, Sarah Ferreira, Sara Hyde, Eleni Kovatsis, Katrina Lambeth, Vivian Liu, Eve Marie Manghis, Gabriella Paquette, Clare Ryan, Olivia Sears, Jennifer Spiegel, Emily Vicks, Lauren Waldman, Vanya Zvonar
Alpha Omega Alpha Certificates
Blackstone House: Jamie Burns, Ian Kelly, Eleni Kovatsis, Holly Shillan, Nishwant Swami, Annie Rae Thornton, Lauren Waldman, Vanya Zvonar
Brightwood House: Megan Hansen, Eve Marie Manghis, Mary Marchese, Victoria Powell, Emily Vicks
Burncoat House: Haley Clark, Symren Dhaliwal, Grace Masters, Omar Sorour, Noah Silverstein
Grafton Hill House: Chantal Ferguson
Kelley House: Emily Chin, Sarah Ferreira, George Han, Vivian Liu, Claire Meyerovitz, Gabriella Paquette, Bryce Pepin, Coleman Riordan, Clare Ryan, Jennifer Spiegel
Quinsigamond House: Maimuna Ahmad
Tatnuck House: Sara Hyde, Caroline Repetti, Olivia Sears
Leonard Tow Humanism in Medicine Award
Bryce Pepin
Ann Nemitz Memorial Award
Sabahat Rahman
Jacob Brem Pediatric Award
Jennifer Spiegel
New England Pediatric Society Award
Bryce Pepin
Marianne Felice Adolescent Health Award
Holly Shillan
Richard Hunter Award for Excellence in Obstetrics & Gynecology
Emily Chin
Thomas Halpin Award for Obstetrics & Gynecology Education and Mentoring
Eileen McNicholas
Karen Green Award for Social Justice (OB-GYN)
Mary Marchese
American Academy of Neurology Medical Student Prize for Excellence in Neurology
Victoria Fleming
Richard Glew Award for Outstanding Performance in Medicine
Lauren Waldman
Mary Hawthorne Award for Outstanding Clinical Performance in Medicine
Peter Keefe
UMass Surgical Society Award for Excellence in Student Clinical Performance
Olivia Sears
UMass Surgical Society Award for Excellence in Surgical Education
Peter Keefe
Association of Academic Surgery Student Research Award
Kevin Dickson
SAEM Excellence in Emergency Medicine Award
Ryan Lindsay
Aaron Lazare Award for Psychiatry
Grace Masters
John Efstathiou Memorial Award
Sarah Hyde, Ian Kelly, Eve Marie Manghis, Gabriella Paquette, Coleman Riordan, Emily Vicks
USPHS Excellence in Public Health Award
Bennett Vogt
Catherine Zurier Memorial Award
Chantal Ferguson, Grace Masters, James Shen, Noah Silverstein, Nishwant Swami
Gary Winzelberg, MD '74 Memorial Award
Peter Keefe
Kristen M. Ettensohn Memorial Award for Medical Excellence through Advocacy, Art & Athletics
Presented by Michele Pugnaire, MD, on behalf of Linda Hassan Ettensohn, MD, and David Ettensohn, MD
Katrina Lambeth
Faculty
Community/Partners
Cape Cod Hospital:
Tara Chute, MD
UMass Chan - Baystate
Raquel Belforti, DO
Sonia Riyaz, MD
UMass Chan- Worcester
Arvind Badhey, MD
Kimberly Bombaci, MD
Jennifer Carey, MD
Guy Carmelli, MD
James Carroll, Jr., MD
Cezar Cimpeanu, MD
James Fidrocki, MD
Phillip Fournier, MD
Timothy Gibson, MD
Mark Johnson, MD, PhD
Oliver Marasigan, MD
Vandana Nagpal, MD
Ryan Tai, MD
Housestaff
Alison Asirwatham, MD
Kelsey Carman, MD
Coleman Clifford, MD
Benjamin Cook, MD
Rrita Daci, MD
Michael Fitzpatrick, DO
Max Hazeltine, MD
Susan Kim, MD
Lawrence Malinconico, MD