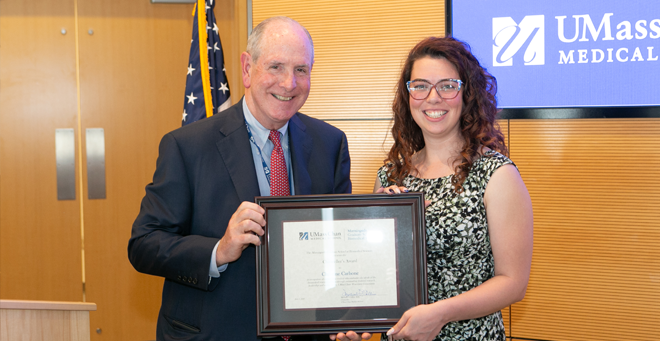 The Morningside Graduate School of Biomedical Sciences at UMass Chan Medical School honored student scientists during the 2023 Student Achievement and Leadership Awards Ceremony on Thursday, June 1.
Chancellor Michael F. Collins presented the 2023 Chancellor's Award, the highest award presented to a member of the Morningside Graduate School of Biomedical Sciences graduating class, to Christine Carbone.
Carbone completed her studies last fall and works as a structural biology scientist at Relay Therapeutics in Cambridge. Her research on ribosomes and translation by cryo-electron microscopy has been cited 30 times in the last 18 months.
Chancellor Collins said Carbone has, "distinguished herself as an outstanding researcher, a respected student leader and an engaged community member who regularly took part in volunteer service opportunities within Worcester."
Mary Ellen Lane, PhD, the Donna M. and Robert J. Manning Chair in Biomedical Sciences, professor of neurobiology and dean of the Morningside Graduate School of Biomedical Sciences, presented Kathleen Morrill and James Shen with the Dean's Award for Outstanding Thesis Research.
Morrill, this year's class speaker, completed her studies in the Neuroscience Program in February. Since then, she's worked as a senior computational scientist in genome analysis for Colossal Biosciences, a company working toward the de-extinction of the woolly mammoth, the Tasmanian tiger and the dodo bird. Morrill's work on the behavioral genomics of domestic dogs was published in Science last spring.
Shen, an MD/PhD student, was recognized for his dissertation work on the essential role of membrane interactions that unite autophagy with mitochondrial dynamics in both normally functioning cells and human disease. Dean Lane said Shen's work provides an important understanding of how mitochondrial clearance and autophagy, which are often studied in isolation, are linked. Shen will pursue residency in radiation oncology following the completion of his studies.
Bethany Berry received the Student Justice, Equity, Diversity, Inclusion (JEDI) Leadership Award. The award was introduced in 2021 to honor students or a student group with a demonstrated record of excellence and achievement in promoting or enhancing JEDI in the Morningside Graduate School of Biomedical Sciences community over the academic year.
Berry, an MD/PhD student, is a member of the Student National Medical Association, UMass LIGHT mentorship program and White Coats for Black Lives.
In a moment of special recognition, Terence R. Flotte, MD, the Celia and Isaac Haidak Professor, executive deputy chancellor, provost and dean of the T.H. Chan School of Medicine, highlighted the accomplishments of Lane and celebrated her five-year mark as dean of the Morningside Graduate School of Biomedical Sciences.
"It's unusual for a graduate school dean to be truly transformational, but the times have called for such leadership and Dean Lane has stepped up masterfully in this circumstance," Dean Flotte said.
In her closing remarks, Lane encouraged members of the Class of 2023 to reflect on its many hard-earned accomplishments and celebrate its resilience.
"The education that you have now completed at this level, of this quality, is a gift. It's not a gift you have been given, but a gift you have earned. You've committed yourself to a goal. You've embraced the developmental process. You have persisted through the relentless ups and downs of science, through a global pandemic that created a serious disruption in your plans and progress," Lane said. "And while you may acknowledge with gratitude all that helped you and supported you on this journey, I do want you to take appropriate pride in what you yourself have achieved through your own effort, skill, knowledge and commitment."
The full award ceremony can be watched on the UMass Chan YouTube page.
Award recipients, some of whom will earn their degrees during Commencement on Sunday, June 4, are:
Chancellor's Award
Christine Carbone
Andrei Korostelev, PhD, mentor
Dean's Award for Outstanding Thesis Research
Kathleen Morrill
Elinor Karlsson, PhD, mentor
James Shen
Eric Baehrecke, PhD, mentor
Class Speaker
Kathleen Morrill
Elinor Karlsson, PhD, mentor
GSBS Career Development Awards
Feng (Damon) Wang
Jonathan Watts, PhD, mentor
Riccio Travel Awards
Gaurav Chauhan
Elinor Karlsson, PhD, mentor
Megan Honeywell
Michael Lee, PhD, mentor
Ekaterina Korobkina
David Guertin, PhD, mentor
Emily Lowry
Amir Mitchell, PhD, mentor
Karthikeyan Ponnienselvan
Scot Wolfe, PhD, mentor
Yuqing Wang
Manuel Garber, PhD, mentor
Alpha Omega Alpha Awards
Chantal Ferguson
Anastasia Khvorova, PhD, mentor
Grace Masters
Nancy Byatt, DO, MS, MBA, mentor
Noah Silverstein
Jeremy Luban, MD, mentor
Dean's Award for Outstanding Mid-Thesis Research
Erica Kwiatkowski
Patrick Emery, PhD, mentor
Outstanding Student Mentor in the Classroom or Research Setting Award
Kevin Gao
Ann Rothstein, PhD, mentor
Student Community Service Leadership Award
Joseph Magrino
Brian Kelch, PhD, mentor
Student JEDI (Justice, Equity, Diversity, Inclusion) Leadership Award
Bethany Berry
Mark Johnson, MD, PhD, mentor