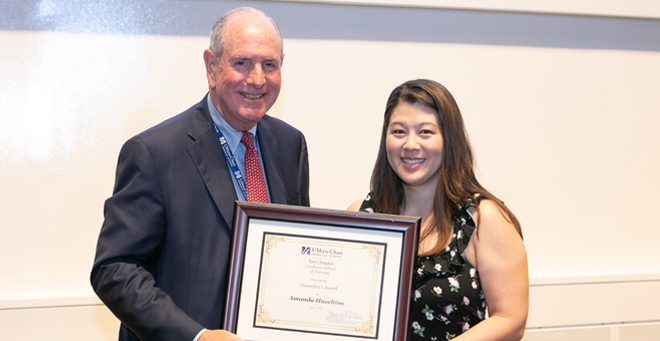 The 2023 Celebration of Scholarship and Awards of the Tan Chingfen Graduate School of Nursing was held at UMass Chan Medical School on Thursday, June 1.
The annual event preceded the 50th Commencement Exercises taking place on Sunday, June 4, when 54 Doctor of Nursing Practice and three PhD in Nursing degrees will be conferred, as well as one postgraduate certificate, to the Class of 2023.
Joan Vitello-Cicciu, PhD, the Donna M. and Thomas J. Manning Chair in Nursing, dean of the Tan Chingfen Graduate School of Nursing and professor of nursing, presided over the award presentations.
"Each of these awards fills me with immense joy. It is a special occasion that brings us together to celebrate the achievements of all our 2023 graduating nursing students who will soon join the ranks of our esteemed alumni. We commend you all for your unwavering dedication and your sacrifices as learners," Dean Vitello said.
Vitello presented the Tan Chingfen Graduate School of Nursing Dean's Award to Heather Briere, a nurse practitioner and graduating PhD student, for her dissertation work identifying a set of diagnoses and conditions that were more common in adults with intellectual and developmental disabilities, or IDD, than adults without IDD who died during hospitalization.
"This is groundbreaking work and has the potential impact education, policy and health care for the thousands of adults with IDD," Vitello said. "Heather's commitment to education, teaching, research, nursing and adults with IDD is worthy of recognition."
Chancellor Michael F. Collins presented the Chancellor's Award, the evening's highest honor, to Amanda Hazeltine, MS, CNP, AGACNP-BC, class speaker and a Graduate Entry Pathway (GEP) to Doctor of Nursing Practice (DNP) student.
Hazeltine is a mother of two who decided to pursue a career in nursing after seeing the supportive care her late mother received during her cancer treatment. She had 13 years of experience as a leader in health care, communications and project management before entering the Tan Chingfen Graduate School of Nursing. Hazeltine worked as an immunology oncology nurse while completing her DNP. She will continue her work as a hematology oncology nurse practitioner at Massachusetts General Hospital after graduation.
In his presentation to Hazeltine, Chancellor Collins said, "I want to thank you for all that you've done for our academic community. But, more importantly, for your patients. We wish you all the best as you continue along your career path, and always know that we shall take great pride in calling you one of our own."
Vitello presented three new awards: the Clinical Excellence in Mental Health Nursing Award to Kat Mendez; the Advocacy and Innovation Award to Maria Barros; and the Making a Difference Outstanding Community Service Award to Mary Opatka.
The ceremony also included the presentation of the inaugural Service Leadership Award to Kelly Garcia and Madeline Lane.
Kenneth Peterson, PhD, the Marcellette G. Williams Scholar, and assistant professor of nursing, was awarded the Faculty Daisy Award, recognizing contributions a faculty member makes to the future of nursing.
"Everything Dr. Peterson does as an educator, an academic and a clinician is centered around trying to understand the context and the perspective from those he is caring for," Vitello said. "His commitment to championing diversity and inclusion speaks to his kind-heartedness and compassion."
The full award ceremony can be watched on the UMass Chan YouTube page.
The 2023 awards and recipients, some of whom will earn their degrees during Commencement on Sunday, June 4, are:
Chancellor's Award
Amanda Hazeltine
GSN Dean's Award
Heather Briere
Commencement Speaker Recognition
Amanda Hazeltine
Carol Bova Scholarship
Caitlin Healy
Lillian Goodman Scholarship
Kelly Sudnick
Annie Vigeant Award
Elizabeth DelSignore
Kathryn Liziewski
Paulette Seymour-Route Scholarship
Johnny Isenberger
Suzanne T. and John F. Sullivan Scholarship
Marisa DaSilva
Patricia Quill
Janet Fraser Hale Academic Achievement and Leadership Award
Kathryn Walker
Lucie D. Russell Briefcase Award
Family Nurse Practitioner: Kelly Joyce
Adult Gerontological Primary Care Nurse Practitioner: Monica Mbugua
Adult Gerontology Acute Care Nurse Practitioner: Sophia Mirageas
Psychiatric Mental Health Nurse Practitioner: Heidi Holiver
Adult Gerontology Acute Care Nurse Practitioner: Sophia Mirageas
Post Graduate Certificate: Sara Smoller
Outstanding NP student in Critical Care Award
Nicole Mattson
Jane McCue Magner Award
Adam Corl
Helen Tsiagras
Interprofessional Community Service Award
UMass Chan Dominican Republic Batey Initiative Community Service Learning Group
Jeannece Batista
Jennifer Bugos
Rachelly De La Cruz
Colleen Packard
Erika Powell Burson
Ayeh Tanteh
Joseph Tulip
Monica Wiant
Community Partnership Award
UMass Memorial Community Medical Group
Nancy and Walter Kowal Scholarship
Daniel Appiah
Reginald Sarpong
Ciborowski Family Scholarship
Joseph Tulip
Janet Fraser Hale Humanism in Health Care Award
Robin Young
Service Leadership Award
Kelly Garcia
Madeline Lane
Clinical Excellence in Mental Health Nursing Award
Kat Mendez
Making a Difference Outstanding Community Service Award
Mary Opatka
Advocacy and Innovation Award
Maria Barros
Faculty Daisy Award
Kenneth Peterson, PhD