David McManus and Brian Lewis named to endowed chairs
Chancellor Collins announces appointment of 'accomplished and visionary faculty leaders'
UMass Medical School will invest David McManus, MD, and Brian Lewis, PhD, into endowed chairs. The University of Massachusetts Board of Trustees voted at its April meeting to approve naming Dr. McManus, chair and professor of medicine, to the Richard M. Haidack Professorship in Medicine, and Dr. Lewis, professor of molecular, cell & cancer biology, to the George F. Booth Chair in the Basic Sciences.
"These two accomplished and visionary faculty leaders join a great tradition of the Medical School, one that honors those benefactors whose confidence in our mission led them to make a commitment to our future," said Chancellor Michael F. Collins, who announced the honors. "UMass Medical School is greatly enhanced by the commitment these colleagues have made to our institution and to excellence in their endeavors. Dr. McManus and Dr. Lewis epitomize the accomplishments and values that our benefactors have in mind when they support our work here."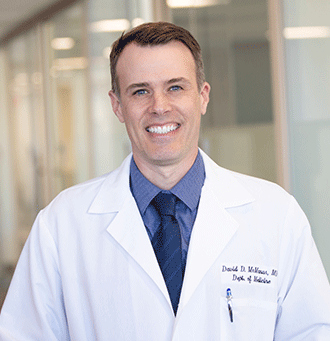 McManus succeeds Robert W. Finberg, MD, distinguished professor of medicine, who was the second incumbent of the Haidack professorship.
The endowment for the Haidack professorship was established in 1991 through a bequest from Richard Haidack, whose brother, Gerald, was among the initial group of faculty members recruited to UMass Medical School in the early 1970s and who went on to become a professor of surgery and cell biology.
After earning his medical degree and master's in clinical investigation at the School of Medicine, McManus completed residency training in internal medicine and a fellowship in cardiovascular medicine at the University of California San Francisco, returning to UMMS for further fellowship training in cardiovascular medicine and cardiac electrophysiology. He joined the UMMS faculty in 2009 and was appointed chair of medicine in 2020.
McManus, founding director of the Program in Digital Medicine, is a leader in the field of cardiac electrophysiology, particularly in the areas of the epidemiology of heart rhythm disorders and use of technologies to better diagnose and treat cardiovascular disease. His digital health research and work in the point-of-care diagnostics space led to the NIH-funded Center for Advancing Point-of-Care Technologies in Heart, Lung, Blood and Sleep (CAPCaT) Center at UMMS and UMass Lowell and his recent work on one of the NIH's centerpiece pandemic initiatives—the Rapid Acceleration of Diagnostics (RADx) program.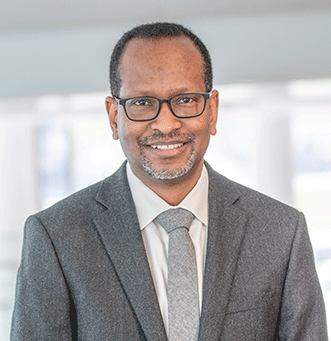 Lewis succeeds the inaugural incumbent George Witman, PhD, professor emeritus of radiology, as the George F. Booth Chair in the Basic Sciences.
Robert W. Booth established the endowment in 1999 to support a faculty member engaged in basic science research. It is named in memory of his late father, George F. Booth, a Worcester civic leader with a deep appreciation for medical science and innovation.
Lewis joined the UMMS faculty in 2003 after earning his PhD in biology from Johns Hopkins University and completing postdoctoral fellowships in cancer biology at the National Institutes of Health and Memorial Sloan-Kettering.
The Lewis lab focuses on elucidating the molecular mechanisms driving the initiation, progression and spread of pancreatic cancer and hepatocellular carcinoma, making significant contributions to the field of cancer biology. He generated the first pancreatic cancer model induced after the postnatal and sporadic activation of oncogene expression while a postdoctoral fellow. This model was the first to provide strong evidence supporting the hypothesis that pancreatic cancers develop from the transformation of pancreas progenitor cells.
A national leader in graduate biomedical education, Lewis serves in dual leadership roles as associate dean for diversity and pre-matriculation programs in the Graduate School of Biomedical Sciences and assistant vice provost for outreach and recruitment for UMMS.
"Please join me in congratulating Dr. McManus and Dr. Lewis on their well-deserved recognition," said Chancellor Collins. "Together with their fellow endowed chairs and named professors, they exemplify the caliber of our faculty."
Related stories on UMassMed News:
UMass Medical School helps lead NIH RADx, to accelerate new COVID test technologies
GSBS Diversity Interest Group promotes social justice, equity and advocacy
Digital medicine expert David McManus appointed to serve as chair of medicine
Brian Lewis recognized at Biomedical Science Careers Program Evening of Hope 2020
UMass Medical School receives $100 million in NIH grants to lead push for fast, accessible COVID-19 tests
Brian Lewis named assistant vice provost for outreach and recruitment