While the acceleration of COVID-19 vaccinations has received much attention, the national effort to bring convenient, affordable and rapid testing technology for SARS-CoV-2 infection to market is also moving full speed ahead.
In addition to the original mission to make tests more available, researchers are investigating lingering questions about COVID transmission.
The $1.5 billion effort, known as the National Institutes of Health Rapid Acceleration of Diagnostics initiative, or RADx, was launched in April 2020.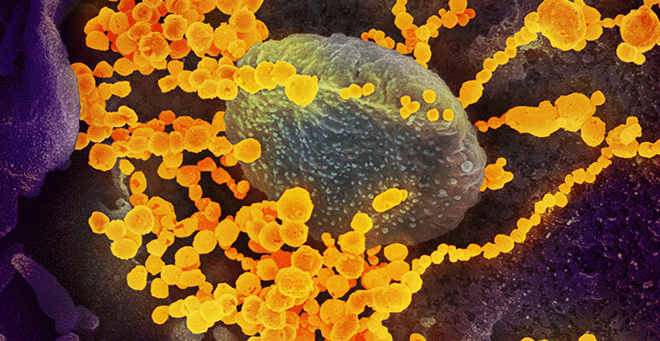 A team led by David McManus, MD, chair and professor of medicine at UMMS, and Laura Gibson, MD, associate professor of medicine at UMMS, who co-leads the RADx Tech Clinical Studies Core, was awarded $123 million in 2020 to oversee the clinical studies component of point-of-care and home-based diagnostics, part of RADx Tech, with partner institutions across the country.
Bryan Buchholz, PhD, chairman and professor of biomedical engineering at UMass Lowell, is co-principal investigator and co-director with Dr. McManus of the Center for Advancing Point of Care Technologies, or CAPCaT, a partnership between the Medical School and UMass Lowell.
"This is one of the best-kept secrets," said Nathaniel Hafer, PhD, assistant professor of molecular medicine and lead investigator of RADx Tech Study Logistics Core. "We have remained engaged with multiple companies and are helping them complete studies in order to apply for FDA emergency use authorization of their products. And we have been working to look at things that aren't well understood —like, when is somebody actually infectious and how does that line up with their symptoms? Or what kind of sampling techniques are best?"
Dr. Hafer said answers to these questions would inform policymakers about how much testing needs to be done and guide decisions about re-opening schools and other public gatherings.
UMMS is leading studies with its research partners for eight or nine technologies being developed or scaled up, according to Hafer.
The National Institute of Biomedical Imaging and Bioengineering's RADx Tech reports that for late-stage scale-up projects, 139 projects were evaluated in-depth in the initial RADx technology innovation process; 29 projects have progressed through multiple phases of the review process to scale-up and commercialization; and RADx has increased the U.S. COVID-19 testing capacity by more than 180 million tests.
Sixteen tests have received FDA authorization, including the first over-the-counter COVID-19 test for use at home, from Australian company Ellume, which will be available to consumers this year. And more than 150 organizations have received support.
One product that RADx Tech Clinical Studies Core has been working with is Quidel Corp.'s QuickVue At-Home COVID-19 test, which received emergency use authorization from the FDA on March 1 for SARS-CoV-2 antigen home testing with a health care provider's prescription. On March 31, QuickVue and another at-home test product, Abbott's BinaxNOW, received approval from the FDA for over-the-counter use.
NIH announced that more than 200 participants had already enrolled in a study of QuickVue that involves daily testing for a two-week period. Results from nasal swab samples appear in 10 minutes. Although users can interpret the test results on their own, a smartphone app called MyDataHelps, developed by CareEvolution, LLC, provides independent confirmation of the result when the user photographs the test strip with the smartphone camera. Preliminary results based on responses from participants are that nearly all would recommend the MyDataHelps app and the QuickVue test, and they also found the instructions for performing the test useful.
Researchers hope to understand more how individuals interact with these apps and where they find value in them, to advance home testing for broader use, according to NIBIB.
Hafer said he was excited about this type of home-testing product. If enough study participants show it can be used easily, it could be deployed across communities so people could test themselves daily and break the chain of transmission.
"The big thing about COVID, or SARS-CoV-2, is that you're infectious and spreading the disease when you're asymptomatic," said Hafer. "We want to try to catch people while they still feel fine, but they're positive with the virus and infectious, so that they know to isolate themselves and not be out in public spreading it around."
People interested in participating in a RADx Tech study can learn more about and register for opportunities at the website COVID-19 Test Us - Brought to you by RADx Tech. The Test Us initiative includes studies at UMass Medical School, Emory University in Atlanta, Johns Hopkins University in Baltimore, Northwestern University in Evanston, Illinois, and several outpatient practice-based research networks across the U.S.
The RADx initiative partners with federal agencies, including the Office of the Assistant Secretary of Health, Department of Defense, the Biomedical Advanced Research and Development Authority, Centers for Disease Control and Prevention, and the Food and Drug Administration.
Related stories on UMassMed News:
UMass Medical School receives $100 million in NIH grants to lead push for fast, accessible COVID-19 tests
NIH invests in rapid innovation and development for COVID-19 testing