David McManus appointed to serve as chair of medicine
He will also be appointed founding director of the new Program in Digital Medicine
In the new year, David D. McManus, MD, professor of medicine, will begin an appointment as the chair of the Department of Medicine, according to an announcement by Eric. W. Dickson, MD, president and CEO, UMass Memorial Health Care, and Terence R. Flotte, MD, the Celia and Isaac Haidak Professor, executive deputy chancellor, provost and dean, School of Medicine.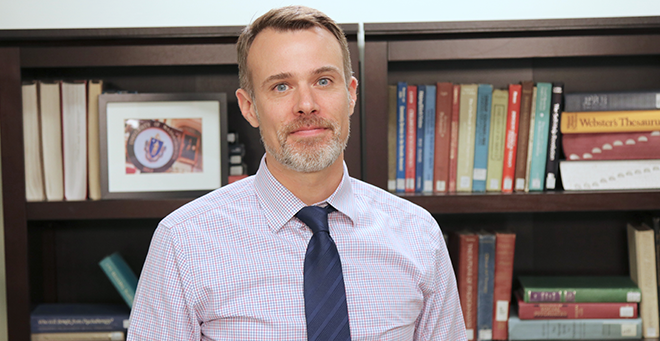 In this new role, Dr. McManus will also be invested as the Richard M. Haidack Professor of Medicine, an endowed professorship directed by the donor to be held by the chair of medicine; he will also be appointed founding director of the new Program in Digital Medicine.
McManus's current roles include serving as the department's vice chair for clinical affairs and principal investigator on the $123 million Rapid Acceleration of Diagnostics, or RADx, grant, which was awarded by the National Institutes of Health last summer to identify new methods and tools for addressing the coronavirus pandemic. He is also an investigator on three active R01 grants and one U54 grant from the National Heart, Lung, and Blood Institute. His research focuses on use of digital technologies and artificial intelligence for the diagnosis and management of heart, lung, blood and sleep disorders. He is an executive director of the Massachusetts Medical Device Development Group and founding editor in chief of the Cardiovascular Digital Health Journal.
McManus is a 2002 graduate of the UMMS School of Medicine; he completed an internal medicine residency at the University of California San Francisco and then returned to UMMS, where he completed a cardiovascular medicine fellowship and a clinical cardiac electrophysiology fellowship; in 2012, he earned a master's degree in clinical investigation from UMMS. In recognition of scholarly and academic contributions of national distinction, he was named a Dr. Marcellette Williams Scholar in 2018.
The goal of the newly created Program in Digital Medicine is to establish the Department of Medicine as a national leader in digital health. The program will include a digital medicine fellowship and a focus on supporting research in artificial intelligence, point-of-care technologies, and mobile and digital health, in part through close collaborations across UMMS and UMass Memorial to catalyze the development and testing of the next generation of diagnostics, health management solutions and digital therapeutics.
McManus inherits a robust and wide-ranging department that has grown its research, clinical care and educational missions under the leadership of Robert W. Finberg, MD, over the past 21 years. During his tenure, Dr. Finberg has published hundreds of peer-reviewed papers; mentored countless colleagues, residents and students; and led groundbreaking infectious diseases research focused on the interactions between viruses and mammalian hosts. He is an expert on the influenza virus; this year, he helped lead the response to the coronavirus pandemic by serving as a trial site principal investigator for numerous clinical trials, including the NIH-funded remdesivir trial and the Pfizer mRNA vaccine trial. He is most proud of his contributions to the career development of the many students, residents and faculty members whose careers and achievements have brought international recognition to UMMS and UMass Memorial. Finberg will remain on the faculty as the Medical School's most accomplished pandemic response researcher.
Finberg's decades of leadership will be recognized more fully in the coming weeks. The system is thankful for the work of the search committee, co-chaired by Michael Gustafson, MD, MBA, president of UMass Memorial Medical Center, and Catarina Kiefe, PhD, MD, the Melvin S. and Sandra L. Cutler Chair in Biomedical Research, and professor of population & quantitative health sciences.