Brian Lewis recognized at Biomedical Science Careers Program Evening of Hope 2020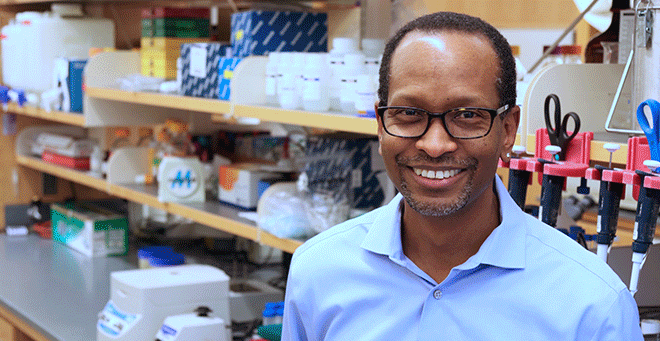 Brian Lewis, PhD, professor of molecular, cell & cancer biology, assistant vice provost of outreach and recruitment, and associate dean for diversity and prematriculation programs in the Graduate School of Biomedical Sciences, was one of three scientists recognized in the Evening of Hope 2020 Honor Roll at the Biomedical Science Careers Program's (BSCP) annual fundraising ceremony, held virtually this year.
"It is very well-deserved," said Terence R. Flotte, MD, the Celia and Isaac Haidak Professor of Medical Education, executive deputy chancellor, provost and dean of the School of Medicine. "The thing about the work of Dr. Lewis is that it is true servant leadership. Not self-aggrandizing, but extremely impactful."
BSCP was established in 1991 with a mission to close the equity gap for people of color and underrepresented individuals and help diversify the biomedical sciences and health professions. The organization supports students and fellows around the world.
Each year, the organization recognizes an honor roll of select individuals who have maintained a consistent relationship with BSCP and committed to its mission. Dr. Lewis has been involved as an adviser, judge and panelist since 2011.
"This is a truly wonderful recognition and I appreciate this powerful organization," Lewis said. "I'm happy to have been a part of BSCP's efforts for a long time now and I see myself remaining involved for the foreseeable future. It's humbling to be associated with an organization that has made important contributions to enhance excellence and diversify medicine, biomedical science and beyond."
Lewis was inspired to join BSCP through word of his colleagues at UMass Medical School, many of whom are also involved in the organization.
"I'm so grateful I took this opportunity," he said. "It has been a great experience. There is a certain power going into a space where you see all of these diverse, bright young people."
Through his years with BSCP, Lewis has participated in numerous organization events, such as conferences, panels and the annual New England Science Symposium, which allows college and graduate students of all levels to share their scientific research and engage in discussions related to career development.
"It's a great experience serving as a mentor and helping students focus on their goals. I've judged at the symposium nearly every year since 2011, and it's amazing watching them grow and interact with scientific leaders," he said. "You make lasting relationships as well."