Page Menu
Lawson Lab personnel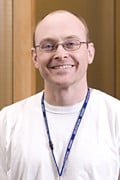 Nathan Lawson
Nathan received his B.S. in Zoology from the University of Rhode Island in 1994 and his PhD from Yale in Biology in 1999. After a postdoc at National Institutes of Health, he joined the UMass Chan Medical School in 2002. He is currently a Professor in the Department of Molecular, Cell, and Cancer Biology.
Aliece

Goodman

Academic Role: Research technician

Aliece joined the lab in the summer of 2019 after graduating from Smith College, where she worked with zebrafish in Michael Barresi's lab. Aliece is working on projects related to vascular mural cells and helping to develop zebrafish models for Sturge-Weber syndrome.

Feston

Idrizi

Academic Role: Graduate student

After receiving his B.A. in Biochemistry and Molecular Biology from Clark University in Worcester, Feston joined the Lawson Lab as a technician. He is now a graduate student in the lab studying the development of vascular mural cells.

Amy

Kolb

Academic Role: Research technician - aquatics

Amy graduated from Hofstra and obtained her Masters degree in marine biology from University of Rhode Island. Amy joined the Lawson Lab in 2020 and is currently responsible for overseeing zebrafish stocks, line maintenance, and supporting generation of new transgenic and mutant lines.

Sarah

Oikemus

, PhD

Academic Role: Research Scientist

Sarah received her Ph.D. from the UMass Chan Medical School and joined the Lawson lab in 2020. Sarah's current projects focus on optimizing conditions for targeted knock-in in the zebrafish genome. She is alaso investigating the mechanism-of-action for anti-lymphatic compounds identified in small molecule screens.

Masahiro

Shin

, PhD

Academic Role: Assistant Professor

Masahiro received his Ph.D. from the Tokyo Metropolitan University in Japan. He has been funded in the Lawson Lab by fellowships from the the Japan Society for the Promotion of Science and the Uehara Memorial Foundation. He is currently studying lymphatic development in the zebrafish.

Benjamin

Toles

Academic Role: Research technician

Ben joined the lab in 2020 after graduating from University of Rhode Island. He works with Masahiro Shin on studies relating to lymphatic development in zebrafish.