Page Menu
Continuity Clinic
A unique much loved feature of our Pediatric Residency Program is that each of our residents is paired with a pediatrician in a community practice for continuity clinic. Shortly after match day, we email our incoming interns a list of preceptors and practice descriptions, so that they can visit the practice either in person or by Skype/phone call. Interns then provide feedback on each practice so that we can "match" them with the pediatrician/practice where they will work for the next 3 years, building their own panel of patients. Practice sites include independent offices, group practices, health maintenance organizations and hospital-associated practices. Many of our preceptors are former UMass pediatric residents, and a few work in the practice where they had continuity clinic. All of them love teaching and the opportunity to work with our residents. Our community faculty are a key part of our UMass "family", and having residents working in the community practices strengthens the relationship between UMass and referring pediatricians.
UMass was one of the first programs in the country to establish one-on-one precepting in community offices. We have a dedicated group of preceptors who take residents year after year, some since 1988! Our preceptors receive faculty development training, including an annual faculty development retreat in the spring and an evening preceptor update in the fall. We utilize both the Yale and the Johns Hopkins online pediatric primary care curricula. Community preceptors are given the opportunity to be involved in primary care teaching on campus, by participating in morning report or leading afternoon block conferences. Interns see patients in their practice one afternoon each week during all rotations; PL-2s and PL-3s also see patients one afternoon each week but will come to clinic for full-days during electives. Time is protected for this activity: residents sign-out their other clinical responsibilities on their clinic afternoons. Typically, they arrive at clinic at 1PM so that 1:00 – 1:30 can be used for teaching time before seeing patients.
In addition, interns and residents have a 4-week Primary Care block month every year, allowing concentrated time for learning ambulatory care, building a patient panel, and exploring the intricacies of the practice and the community it serves. During block month, residents are expected to spend at least 1 day a week getting out into the community. In intern year, they complete an "Our Town" Curriculum that allows them to explore the community where their clinic is located. In second and third year, residents can do home and school visits, visit additional agencies in their clinic community or Central Massachusetts. In third year, residents may use part of their primary care block to spend some time in other community practices.
Residents rate the community-based continuity clinics as an exemplary feature of the residency program. They describe their practices as "a place I return to each week that feels like home". Surveys of UMass graduates who choose careers in primary care say they "hit the ground running". Graduates who choose subspecialty fellowships say the continuity clinics give them an important perspective on what primary care pediatricians need from specialists. They also are grateful for the ability to adeptly handle primary care issues while providing subspecialty care.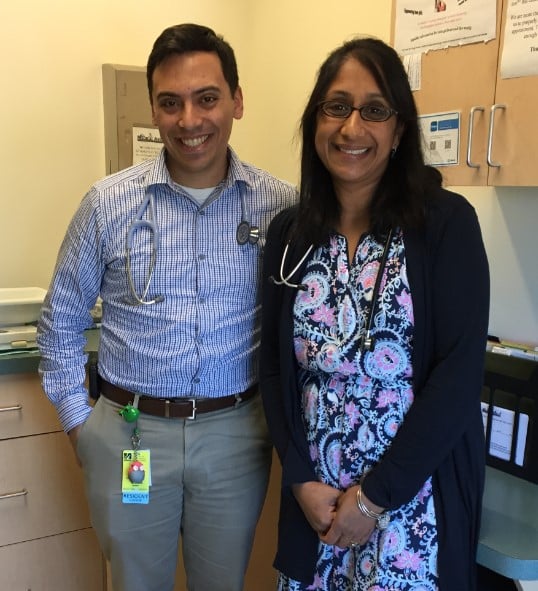 The pediatric residency program at UMass has always protected the time you have at continuity clinic - as they recognize the importance and impact of day to day problems that a patient and family may have. As a result, you come out of residency with a wonderful foundation of primary care which is crucial no matter what you choose to do after residency. You also come out of it with wonderful relationships with colleagues as well as patients over this time. Years after having completed residency - I am STILL at my continuity clinic - only now as a primary care pediatrician as well as a preceptor for a UMASS pediatric resident! - Sejal Daga, M.D.