Page Menu
Neuroscience Program
Neuroscience investigators focus on:
The neural, molecular, and genetic mechanisms that underlie nervous system development, learning and memory, addiction, axon regeneration, glial function and circadian rhythmicity;
Mechanisms of synaptic neurotransmitter release, analysis of how neurotransmitter receptors and membrane channels operate, and how drugs act on these processes to modify cellular function and behavior;
Magnetic resonance imaging technology to study and map changes in the brain associated with physiological stimuli as well as drugs of abuse; and
Disorders of the central nervous system, with special emphasis on neurodegenerative disorders, autism spectrum disorders, mental retardation and other developmental disabilities.
REQUIREMENTS FOR SPECIALIZATION
All Basic Biomedical Science students must complete the core curriculum as well as electives required by their program. Students in the Neuroscience program must take 3 graded elective courses of 2-4 credits each, one of which must be Cellular, Molecular and Developmental Neuroscience, usually in the spring of the first year. Courses offered by other programs may be taken to complete the other elective requirements.
PROGRAM DIRECTOR
David Weaver, PhD
Professor
email Dr. Weaver
OUR FACULTY
The Program in Neuroscience is interdepartmental, administered under the umbrella of the Department of Neurobiology. Participating faculty have primary appointments in several departments, with the largest concentration of faculty coming from the Departments of Neurobiology, Neurology, Psychiatry, MaPS, Medicine, and Molecular Medicine.
STUDENT EXPERIENCE
The program maintains a schedule of seminars and intramural research presentations that ensures a cohesive program. This atmosphere is especially conducive to the scientific growth of graduate students obtaining their degrees in neuroscience. View current and past student listing
STUDENT SPOTLIGHT
Megan Fowler-Magaw, PhD candidate, Neuroscience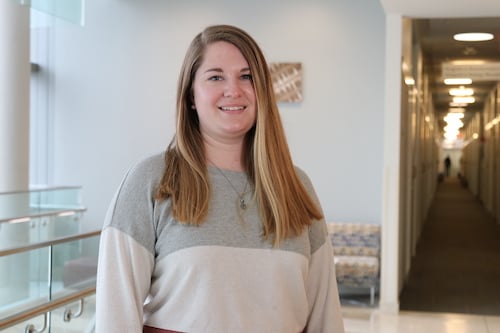 Megan Fowler-Magaw studies a specific gene that is found in 97 percent of Amyotrophic lateral sclerosis (ALS) cases. The TDP-43 gene is a transactive response DNA-binding protein.
Getting Results…
Morningside Graduate School of Biomedical Sciences honors student achievement

Read more

Morningside Graduate School of Biomedical Sciences speaker to urge pursuit of truth

Read more

MD/PhD student using NIH award to study onset of Huntington's disease

Read more
Investigating the Role of cnb-1 and chpf-1 in GABA DD Motor Neuron Remodeling and Synapse Maintenance

Read more

Investigating mechanisms of neurodegeneration

Read more
Dissecting ADAM10 function in microglia-mediated synapse elimination

Read more

Gq Receptor Regulation of Striatal Dopamine Transporters

Read more

Fluorescent visualization of complement-dependent pannexin activity in microglia

Read more