Page Menu
Commonwealth Medicine Cultural Diversity Committee (CWM CDC)
Mission
Commonwealth Medicine values and has a commitment to employee diversity, equal opportunity, and affirmative action. The Cultural Diversity Committee will support initiatives and promote ideas to help build a strong organizational workforce that embraces inclusion and diversity while appreciating differing perspectives and contributions from all employees.
Chairpersons - Thomas Pomfret, and Jorge Sanchez; Executive Sponsor: Lisa Colombo, Executive Vice Chancellor, Commonwealth Medicine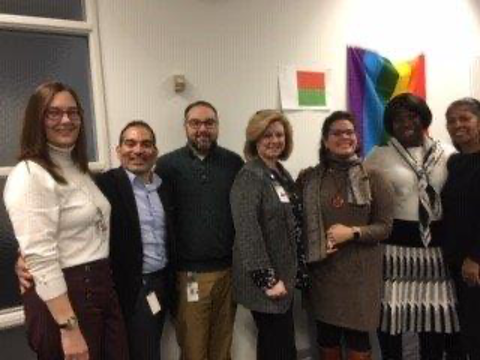 CWM Executive Vice Chancellor and Executive Sponsor of the CWM Cultural Diversity Committee, Lisa Colombo, stands with (L-R) Theresa McGauley-Keaney, Jorge Sanchez, Thomas Pomfret, Lisa Colombo, Priscilla Vasquez, Ruth Aboagye, Daphne Henderson who are a few Members of the CWM CDC. (Photo Credit 2019, Theo Jordan CWM Marketing)
​
Meetings: We meet the 2nd Thursday of every month from 1 – 2 pm in the CWM Executive Board Room (South St.) room subject to change, contact us for the latest information.