Page Menu
Civility Sub-committee of the CEOD
Latest News from the Civility Committee: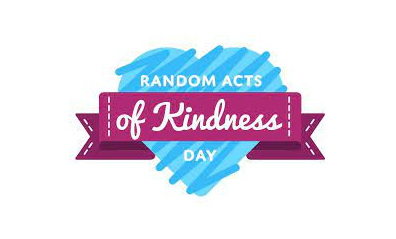 What is Random Acts of Kindness Day?
Random Acts of Kindness Day was first created in Denver, Colorado in 1995 by a small nonprofit organization, the Random Acts of Kindness Foundation; nine years later it spread to New Zealand in 2004. Random Acts of Kindness can include just about anything, including something as simple a taking a tray of muffins to work.
The idea behind this holiday is to make the world a better place by spreading a little light around and to make kindness a part of our everyday lives. Lift someone up with your words, compliment them on their appearance… even the simplest acts can help to brighten someone's day.
Random Acts of Kindness Day is being observed on February 17, 2022.
How To Observe or celebrate Random Acts of Kindness Day #RandomActsOfKindnessDay
By doing something kind for someone else. The someone else could be a friend, family, or a stranger. Make a note to do nice things throughout the day. Sometimes it's the smallest act that makes the biggest impact – something as simple as saying please or thank you can turn a day around and make life seem that much better.
Share your random acts of kindness using #RandomActsOfKindnessDay to post on social media. Random Acts of Kindness Day encourages you to get out there and be the light you want to see in the world. As long as you're spreading warmth and generosity in the world it doesn't really matter how you celebrate.
You can also do one of the following to help celebrate the special day.
How to celebrate Random Acts of Kindness Day
Simply smile at someone
Compliment a work colleague
Let someone go ahead of you in line
Pay for the coffee or meal of the person in front of you in line.
Share words of encouragement, you never know who might need them.
Leave a kind note for someone, no explanation needed.
Post anonymous sticky notes with validating or uplifting messages around for people to find
Send an encouraging text to someone
Mail a "thinking of you" card to someone you've not to talk to in a while.
Drop off a load of groceries at the local food pantry.
Send a thank you note to the local fire department, police departments, or any military personnel.
Put your skills to work for someone in need. For example, offer to create a résumé for someone seeking a new job
Buy flowers for someone.
On Random Acts of Kindness Day, help yourself by helping others – the smile on their face and yours will prove it's all worth it.
A Few Quotes of Kindness:
"Kindness is a language which the deaf can hear and the blind can see." (Mark Twain)
"No act of kindness, no matter how small, is ever wasted." (Aesop)
"Remember there's no such thing as a small act of kindness. Every act creates a ripple with no logical end." (Scott Adams)
"Kind words and actions can seem so small, but their effects are truly endless." (Author Unknown)
"The greatest glory in living lies not in never falling, but in rising every time we fall." (Nelson Mandela)
"Spread love everywhere you go. Let no one ever come to you without leaving happier." (Mother Teresa)
"Tell me and I forget. Teach me and I remember. Involve me and I learn." (Benjamin Franklin)
"Whoever is happy will make others happy too." (Anne Frank)
To learn more, click the newsletter below.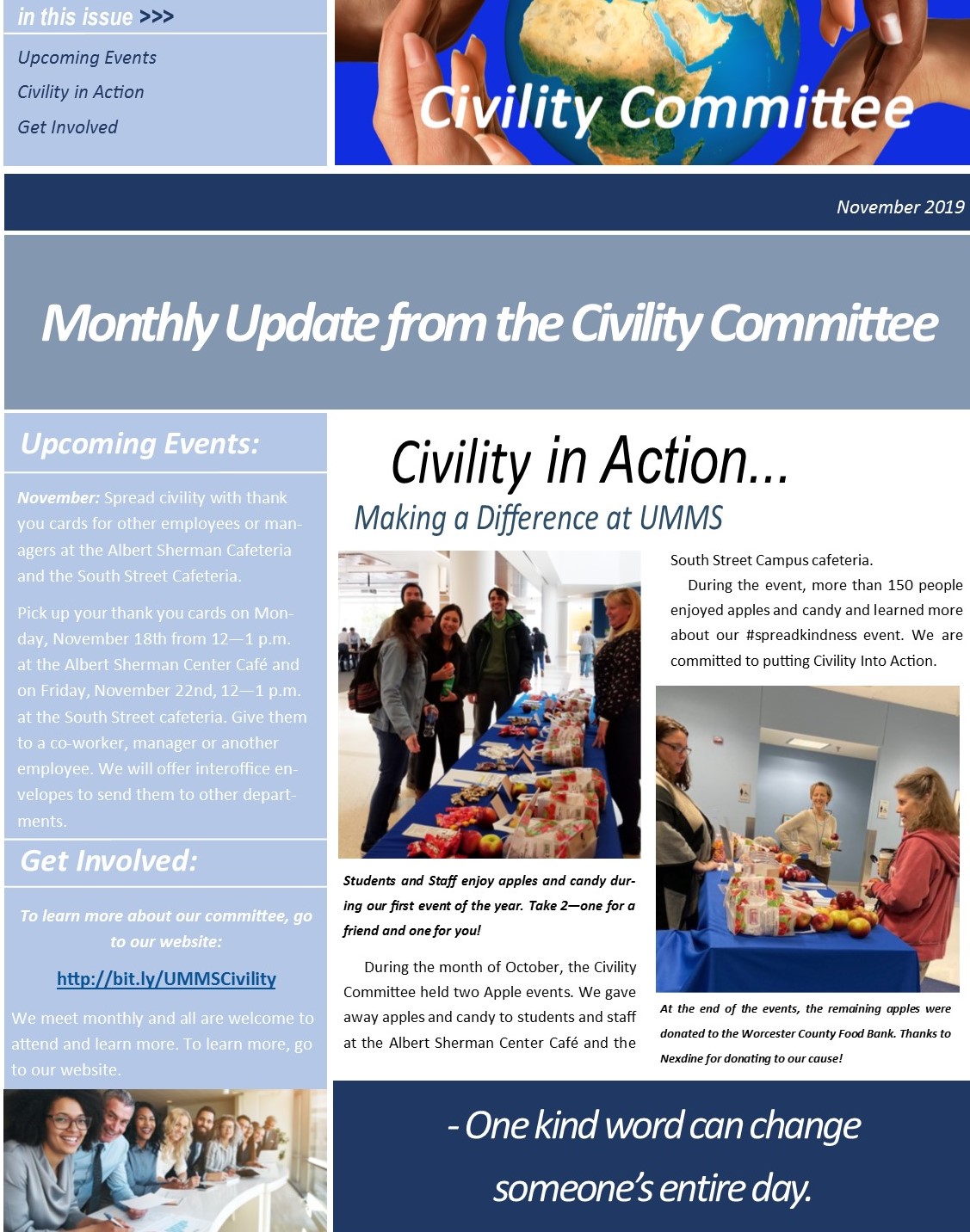 Civility Means to
Be aware
Acknowledge others
Think the best
Listen
Be inclusive
Speak kindly
Don't speak ill
Accept and give praise
Respect even a subtle "no"
Respect others' opinions
Be agreeable
Speak quietly (and rediscover silence)
Apologize earnestly
Show respect
Tell the truth
Seek agreement
Take responsibility
Accept and give constructive criticism
Take proactive steps towards civility every day.
You and I have the right and responsibility to expect civility from each other.
Civility Sub-committee Vision and Mission
Civility Committee Vision:
The Civility Committee promotes an organizational climate where all university employees, students, visitors and volunteers feel safe, respected and supported in the medical school community.
Civility Committee Mission:
The Civility Committee provides opportunities for the medical school community to learn about, understand and engage in civility and supporting human dignity.
Chairpersons - Jennifer Shimer and Theresa Kane
Get Involved!
It is important for staff and faculty to be involved! Contact the committee co-chair, go to an event or meeting or contact CEOD at umassmed.edu (email).
Random Acts of Kindness Day 2022
February 17, 2022