Page Menu
About Worcester
Worcester is New England's second largest city (City population 185,174, County population: 830,622). Its location is central to both Massachusetts and New England, and, historically, has been the underpinning of the city's growth and success.


Today, Worcester is a vital economic, cultural, and educational center within New England. Worcester's largest employer is the University of Massachusetts Medical Campus. The campus is located in proximity to the largest concentration of biotechnology companies in New England. Worcester County continues to grow as many firms relocate, opting for more favorable business and living conditions.



Residents can enjoy Worc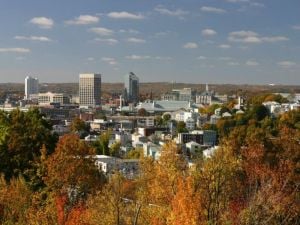 ester's user-friendly environment with a high standard of living at reasonable costs. Affordable apartments and homes suiting many tastes are available within commuting distance to UMMHC. For residents with children, excellent public and private school systems are available.


Worcester has the advantage of city life, while retaining a suburban to even a rural flavor because of its many surrounding small towns. The city boasts many highlights including 10 colleges, many of them nationally recognized for excellence, including Worcester Polytechnic Institute (WPI) and the College of the Holy Cross.
Culturally, Worcester is complete. The world famous Worcester Art Museum, Higgins Armory Museum, Mechanics Hall,and American Antiquarian Society are popular attractions, as are the Ecotarium and Old Sturbridge Village. For entertainment, Worcester has the 15,OOO seat Centrum with an adjoining $32 million expansion for convention facilities. The Centrum houses all the major concerts and star attractions, and is home to the professional hockey minor league team, the Ice Cats. For alternative and more intimate events, there is also the Memorial Auditorium, the Foothills Theatre and Forum Theatre, in addition to the local college programs.
When it comes to recreation, Worcester is also central to your activity of choice. It is a short drive to all fresh and salt-water activities on Cape-Cod, to Boston, New Hampshire, and Rhode Island. Most of the major skiing facilities in New England are reached within two hours, and Wachusett Mountain is minutes away. Finally, because of the surrounding rural environment, scenic biking and hiking trails are only minutes away.



---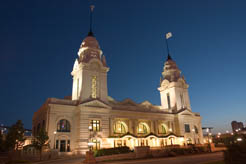 Demographics & Census Information
• Population: 185,174
• Worcester County Population: 830,622
• Land Area: 37.4 square miles
• Median Household Income: $78,345
• Colleges in Greater Worcester: 14
• # of College Students: 35,000+
• MBTA Commuter Rail to Boston: 65 minutes
• WRTA Annual Passenger Trips: 3.6 million