Page Menu
About our Department
The Department of orthopedics and physical rehabilitation, along with the Division of Rheumatology, form the UMass Chan Medical School/UMass Memorial Health Musculoskeletal Center of Excellence.
The Center focuses on clinical care and research for the prevention, diagnosis, treatment and rehabilitation of musculoskeletal disorders. Patients have access to preventive, diagnostic, treatment and rehabilitation services for musculoskeletal injuries and disorders. This includes a direct link to the advanced, highly specialized services located on the three UMass Chan/UMass Memorial Health campuses.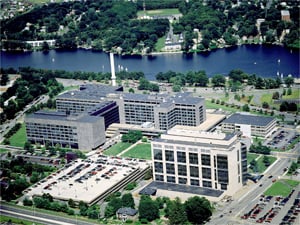 Orthopedic services provided include:
Arthritis and Joint Pain Treatment
Hand and upper extremity surgery and therapy
Joint Replacement
Pediatric Orthopedics
Physiatry
Spine surgery
Sports medicine
Trauma care for orthopedic injuries



UMass Chan Medical School attracted over $290.9 million in NIH funding in 2020, placing it at the 21st place (up from 38th in 2019) among the 140 medical schools, public and private, that receive NIH funding according to the Blue Ridge Institute for Biomedical Research. UMass Chan innovative programs are the centerpiece of the Massachusetts Life Sciences Initiative. Consistently ranked by U.S.News & World Report as one of the leading medical schools in the nation for primary care education, UMass Chan comprises a school of medicine, graduate school of nursing, graduate school of biomedical sciences and an active research enterprise, and is a leader in health sciences education, research and public service.

UMass Chan Medical School is the academic partner of UMass Memorial Health, a regional leader in orthopedic care with programs encompassing general and specialty orthopedic services.