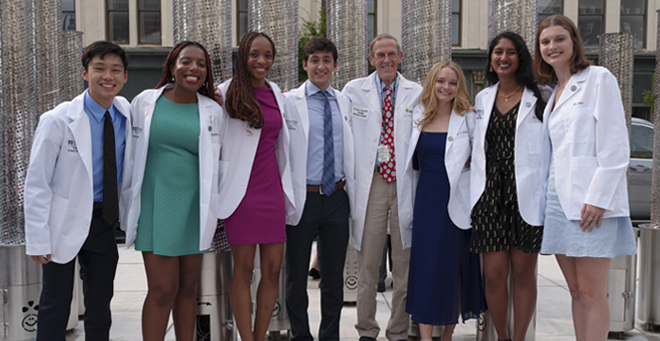 The White Coat Ceremony at the T.H. Chan School of Medicine is a tradition for first-year medical students that welcomes them to the profession as they begin their journeys toward becoming physicians. UMass Chan Medical School's largest medical school class, 200 strong, celebrated with loved ones and mentors at the Hanover Theatre for the Performing Arts in Worcester on Friday, Sept. 8.
"This White Coat Ceremony serves as a reminder of the principles upon which our profession rests," Terence R. Flotte, MD, the Celia and Isaac Haidak Professor, executive deputy chancellor, provost and dean of the T.H. Chan School of Medicine, said in his address to the Class of 2027. "These include our commitments to providing the highest possible degrees of medical expertise; unselfish service; respecting the autonomy of every patient; and always seeking to do the greatest good for them in a manner that's equitable to all regardless of race, creed, gender, language proficiency, cultural background or educational level."
"We are very proud of you, as I am sure your families and friends are proud of you," continued Dean Flotte. "This is a great moment in your career transition, and it is a great moment for us, a moment of hope for the future—a future that we know we can entrust to you."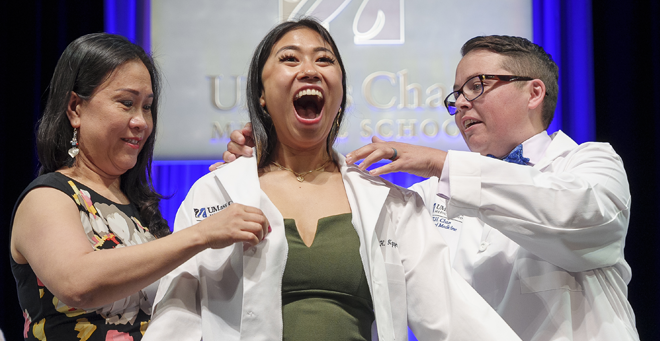 "Today is your day," Anne Larkin, MD, associate professor of surgery and vice provost and senior associate dean for educational affairs, said before the white coats were presented. "The day that you will don your white coats into which you will grow as a scientist, problem-solver, advocate and as a person."
Dr. Larkin said, "I want to recognize that some of you have overcome tremendous hurdles, some of you have already accomplished amazing things, some of you don't quite yet know how to think of this new costume of sorts!"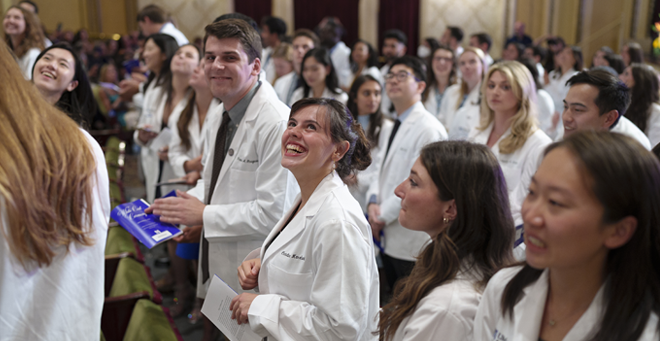 Students donned their white coats grouped by learning community, a peer and faculty support system that serves as a social and academic home throughout all four years of medical school. Because of the increased class size, an eighth learning community was added this year. By the end of the ceremony, all 200 medical students were wearing the white coats they carried into the Hanover Theatre on their arms. The final lines from the Oath of Maimonides rung clear as Dean Flotte led the Class of 2027 through its recitation: "I have been appointed to watch over the life and death of my fellow human beings. Here am I ready for my vocation, and now I turn unto my calling."
"This White Coat Ceremony is a big milestone," said Danny Aljamal, a first-year medical student from Upland, California. "We're celebrating how far we've come, but this is also a reminder that we have four challenging years ahead."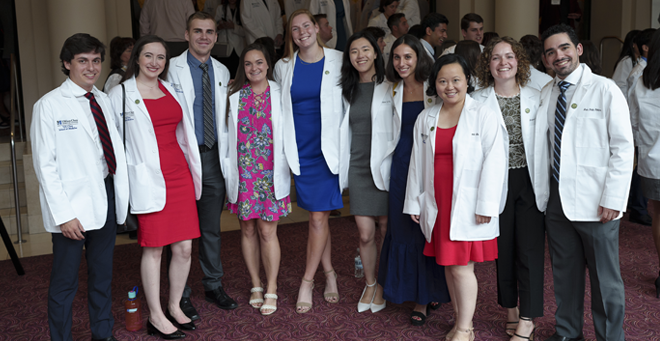 "I'm excited to have my parents here. They've been looking forward to this ceremony and they're super excited," shared Xin Song, a newly cloaked med student from Boston.
"In medicine, I found the most supportive field," said Ryan Thai, a first-year medical student from Wilmington, Massachusetts. "Seeing how I can do so much—from research, clinical and teaching—while having such a great community, is why I chose medicine overall."
"I've known I wanted to be a doctor since I was 10," said Katie Mackey, a first-year med student from Cheshire, Connecticut. "I'm excited to enter a field where I spend every day helping people and continually learning and growing."
Watch the entire ceremony on YouTube.