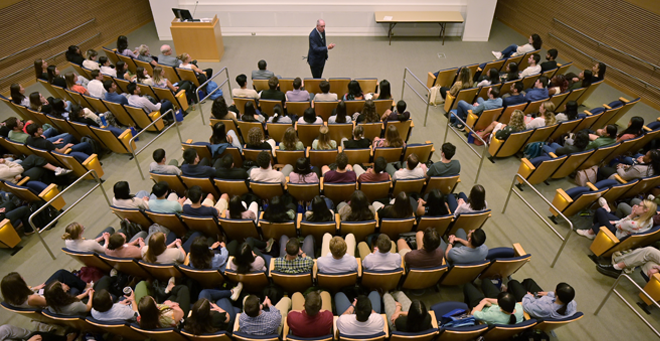 The T.H. Chan School of Medicine welcomed its largest class of medical students on Monday, Aug. 21, including the first UMass Chan medical student from Canada.
"Medical school was the beginning of something I dreamed about for a long time. This morning, I want to welcome you to the privilege of being a physician," said Chancellor Michael F. Collins in his address to the 200 new medical students gathered in the Albert Sherman Center auditorium.
Collectively, the Class of 2027 can speak 40 different languages, has earned 141 honors and awards, and has authored 72 publications.
"Believe," said Anne Larkin, MD, associate professor of surgery and vice provost and senior associate dean for educational affairs. "When you're surrounded with these highly accomplished people, it's totally normal to feel intimidated. But you all belong here. Your journey is beginning; it might be circuitous, it might be straight—take the path that fits what you want."
Seventy-two percent of the class self-identifies as women and 64 percent are Massachusetts residents, with ages ranging from 21 to 37.
California is well represented, with 13 new students hailing from there; seven are from Florida. Thirty-six students come from backgrounds underrepresented in medicine, 27 from economically and educationally disadvantaged backgrounds, and 23 are first-generation college students. An eighth learning community has been added to support the increased class size, up from last year's 175.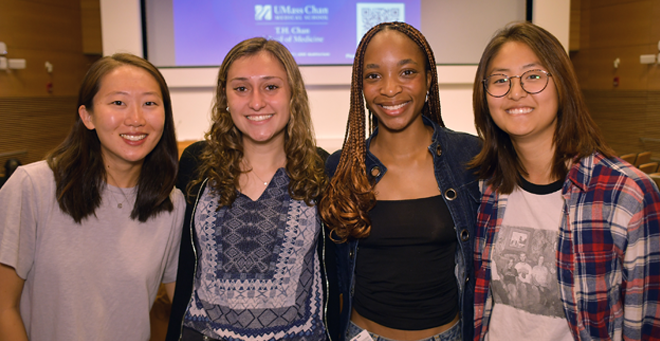 "I'm nervous because I haven't been in school for a couple years. At the same time, that nervousness is excitement. I'm ready to get going," said first-year med student Yaseen Ali from Flint, Michigan. "I've had great physicians in my life who helped my family. Kids look at superheroes and want to be like them; doctors were like that for me."
Twenty-six students are enrolled in the Population-based Urban and Rural Community Health (PURCH) Track, UMass Chan's program at Baystate Health, while nine are enrolled in the MD/PhD program. Twenty-five students are UMass graduates, including three who took part in the UMass Baccalaureate MD Pathway Program.
New medical students Allie DiPietro and Vanya Bhardwaj exchanged friendship bracelets they made for each other during an orientation event. Both grew up in Westford, Massachusetts, but hadn't met until they enrolled at UMass Chan and became roommates.
"I'm excited to learn from all of the classmates here," said DiPietro. "Everyone has such inspiring experiences. I'm really excited to collaborate, study with and learn from them."
"I'm excited to learn how to apply everything we've been learning in theory," said Bhardwaj. "It'll be motivating to remind myself why I'm doing medicine and to see my impact. I love that we start shadowing and learning clinical skills in the first year."
Orientation for the class began on Wednesday, Aug. 16, in a joint event with students in the Morningside Graduate School of Biomedical Sciences and the Tan Chingfen Graduate School of Nursing run by the Office of Student Life. There are 63 new nursing students and 94 new students associated with the Morningside Graduate School of Biomedical Sciences, including the nine new MD/PhD students. The Diversity and Inclusion Office also hosted orientation activities on Thursday, Aug. 17.