T.H. Chan School of Medicine Class of 2026 students don white coats at first-year ceremony
Mantle of the medical profession symbolizes pact between patient and physician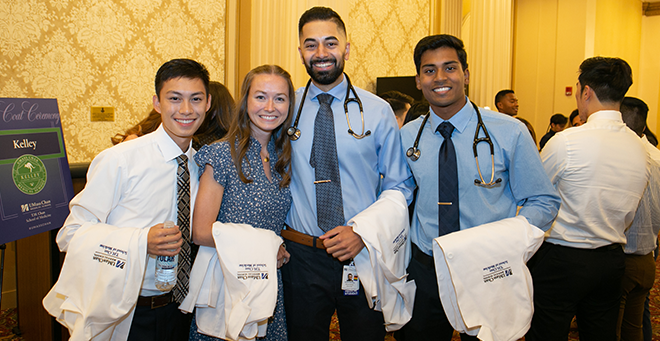 The White Coat Ceremony at the T.H. Chan School of Medicine is a significant experience for first-year medical students as they step into the vocation and outfit themselves in attire that exemplifies the adage, "Dress for the job you want." The White Coat Ceremony for the Class of 2026 at the Hanover Theatre for the Performing Arts in Worcester on Friday, Sept. 16, was no exception.
The 175 students who received their coats on stage represent UMass Chan's largest entering medical school class. Among them was Riley Magane, who was determined to attend medical school after witnessing health issues in her family.
"Knowing that they didn't have the resources or knowledge to advocate for themselves drove me to pursue a career helping individuals like my family receive the best care possible," said Magane. "For me, receiving my white coat from my mother as my father and sister cheer me on is a fitting representation of the balance of personal hard work and familial support that's gotten me here."
Terence R. Flotte, MD, the Celia and Isaac Haidak Professor, executive deputy chancellor, provost and dean of the T.H. Chan School of Medicine, emphasized that white coats not only symbolize a new role, but they represent a pact between patient and physician.
"The white coat is not an entitlement to a patient's trust, but rather a cue that you desire their trust," said Flotte. "Earning that trust takes time, personal and cultural humility, and most of all, sincerely caring for your patients as people. We, the faculty, believe that you possess the fundamental attitude of service and strength of character to fulfill the promise your white coat makes on your behalf."
Keynote speaker Janice F. Lalikos, MD, professor of surgery and 2021 recipient of the Chancellor's Medal for Distinguished Clinical Excellence, offered advice for medical students to "keep tucked away in their new white coat pockets."
"Medical School is the perfect time to start actively building your legacy," said Dr. Lalikos, noting that in choosing to become doctors, the students had committed to providing an "intimate service to humanity housed in a leadership role."
Newly cloaked Brooke Honzel had aspired to become a biomedical engineer until she volunteered at UMass Chan as a clinical research assistant. She was able to shadow neurosurgeons in her first month as a medical student.
"I am still in awe of the fact that I tagged along to speak with a patient in the morning and, by the end of the day, had seen their brain tumor removed to hopefully alleviate the symptoms they had been experiencing," she said. "I feel so fortunate to have witnessed such an important moment in their life and to learn from incredibly talented physicians while doing so."
Watch the entire ceremony on YouTube.
Related UMass Chan news stories:
Chancellor Collins: Momentum high at UMass Chan after year of milestone accomplishments
UMass Chan Gold Humanism Honor Society chapter inducts 36