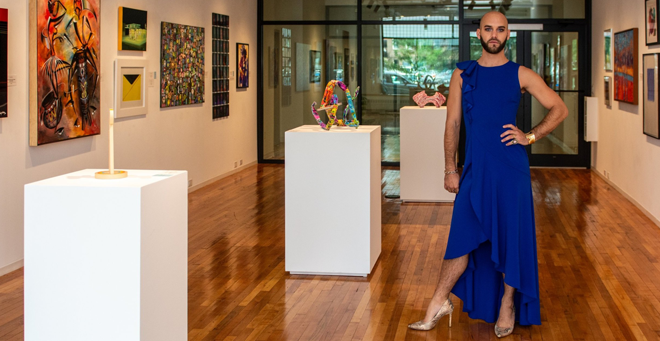 Convocation week continued at UMass Chan Medical School on Monday, Sept. 11, with a virtual talk and Q&A with artist and storyteller Joshua Croke, the guest speaker for the 11th annual LGBT Convocation Welcome Celebration.
"For young people and queer and trans adults, stepping into a doctor's office can be an extremely vulnerable and scary thing," Croke said. "Health care providers can play a really powerful role in encouraging young people to be honest and show up safely. And it's really how we create those interactions that could really be lifesaving."
A 2022 survey from the Trevor Project found nearly half of LGBTQ youth seriously considered attempting suicide in the previous year. Croke, who uses they/them pronouns, is the president and co-founder of Love Your Labels, a nonprofit that gives LGBTQ+ youth the opportunity to safely claim labels through art, fashion and design. They spoke about how their own "label" has evolved over time, coming out as gay before identifying as a queer, nonbinary assigned male at birth person.
"We never know what someone's experiences are and how they identify until we ask. And that's an incredibly important thing in our health care spaces," Croke said. "I ask folks to consider labels that you identity with or that have been used to target and marginalize you and think about how that might impact your interactions with our health care environments. Labels can also be incredible ways to empower dialogue and discussion and find community and solidarity with people in our lives."
Croke answered questions about how researchers can support the LGBQIA+ community and shared how they felt labeled by a physician as a drug user for being sexually active with men.
"As a physician and health care professional, I regret that we don't routinely do better in such encounters," Terence R. Flotte, MD, the Celia and Isaac Haidak Professor, executive deputy chancellor, provost and dean of the T.H. Chan School of Medicine, said in his closing remarks. "We often take for granted the impact of the short times that we have with our patients."
UMass Chan's Diversity and Inclusion Office hosted Croke's talk.