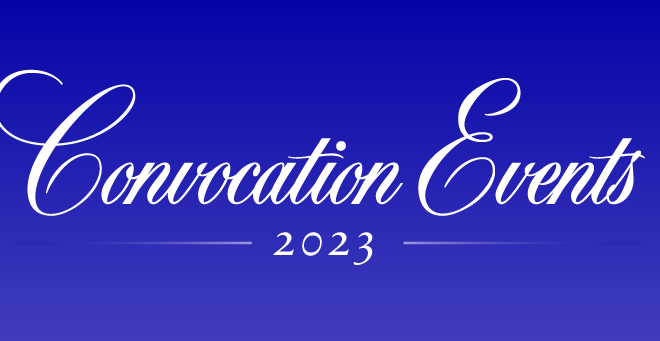 The UMass Chan Medical School community will officially start the academic year with its annual, week-long Convocation events taking place Sept. 8-14.
Most events will be held in the Albert Sherman Center Auditorium and do not require registration unless otherwise noted.
Festivities kick off on Friday, Sept. 8, with the T.H. Chan School of Medicine White Coat Ceremony, welcoming the new class of medical students into the medical community. The event emphasizes the importance of both scientific excellence and compassionate care for the patient. A white coat is placed on each student's shoulders by two people: an individual significant in the student's personal and/or professional development, chosen by the student, and the student's Learning Community mentor, who represents the value system of the school and the new profession the students are about to enter. The ceremony takes place at 2 p.m. at the Hanover Theatre in downtown Worcester.
Tickets for guests are required for attendance at the White Coat Ceremony and can be obtained through the T.H. Chan School of Medicine Office of Student Affairs.
At noon on Monday, Sept. 11, the 11th annual LGBT Convocation Welcome Celebration, sponsored by the Diversity and Inclusion Office, will be held virtually. (Register here.) The LGBT Convocation guest speaker is Joshua Croke (they/them), the founder of Action! by Design, an art and design practice for community development that focuses on equity, justice and joy; and the president and co-founder of Love Your Labels, a nonprofit that explores identity and expression with LGBTQ+ youth through art, fashion and design, and works with families and communities to create inclusive and loving space everywhere.
Also on Sept. 11, the Tan Chingfen Graduate School of Nursing students in the Graduate Entry Pathway (GEP) program will be ceremonially presented with their nursing pins and welcomed into the nursing community by campus leaders. The program begins at 6 p.m.
The GEP program, for individuals with baccalaureate degrees in fields other than nursing, leads first to registered nurse licensure and then to advanced nursing specialties. The pinning ceremony symbolizes completion of the courses required for taking the licensure exam.
At 5 p.m. on Tuesday, Sept. 12, second-year Doctor of Nursing Practice (DNP) students from the Tan Graduate School of Nursing who are entering their clinical years will be presented with their white coats during the Transition into Clinical Practice ceremony. The white coat is a symbol of humanism, collaboration and scientific excellence in health care.
On Wednesday, Sept. 13, the Morningside Graduate School of Biomedical Sciences community will recognize the accomplishments of its future colleagues. The Recognition Ceremony salutes students who have successfully completed their qualifying exam and are proceeding with thesis research in the lab of their faculty advisor, an important milestone in the educational and professional development of basic science and clinical research graduate students: the transition from classroom-based learning to candidacy for a doctoral degree.
The Recognition Ceremony starts at 3 p.m.
On Thursday, Sept. 14, starting at 4 p.m., Chancellor Michael F. Collins will present his annual Convocation address to the UMass Chan community in a ceremony celebrating faculty. Chancellor's Medals for Distinguished Teaching, Distinguished Scholarship, Distinguished Service and Distinguished Clinical Excellence will be presented.
Immediately after Convocation, the following faculty members will be honored and invested as named professors, and the donors who endowed the positions will also be honored.
Andres Schanzer, MD, professor of surgery, chief of the Division of Vascular and Endovascular Surgery, and professor of population & quantitative health sciences, will be appointed the inaugural holder of the Cutler Chair in Vascular and Endovascular Surgery. Dr. Schanzer, passionate academic vascular surgeon and a highly respected and renowned physician, has served as chief of the Division of Vascular and Endovascular Surgery since 2016.
Michael A. Brehm, PhD, associate professor of molecular medicine, principal investigator of the UMass Chan Diabetes Center of Excellence and co-director of the humanized mouse core facility, will be appointed the inaugural holder of the Harvey A. Shultz Chair in Diabetes. Dr. Brehm is a cutting-edge researcher, renowned scientist, and committed leader in academic medicine and higher education with a career-long focus on investigating type 1 diabetes.
Sharon B. Cantor, PhD, professor of molecular, cell & cancer biology, will be appointed to the Gladys Smith Martin Chair in Oncology. Dr. Cantor, renowned for her innovative research in hereditary breast and ovarian cancer, has profoundly transformed the understanding of cancer genomics and therapeutic vulnerability. She has also been honored for her dedication to enhancing graduate education at UMass Chan.
Vaikom S. Mahadevan, MD, professor of medicine and chief of the Division of Cardiovascular Medicine, will be appointed the Edward Budnitz, MD, Professor in Cardiovascular Medicine, an endowment established to recognize and support the chief of the Division of Cardiovascular Medicine. Dr. Mahadevan is a renowned interventional cardiologist specializing in adult congenital heart disease who joined UMass Chan in 2023.
The LGBT Convocation Welcome Celebration will be held on Zoom; all other events will be streamed on the UMass Chan YouTube channel.