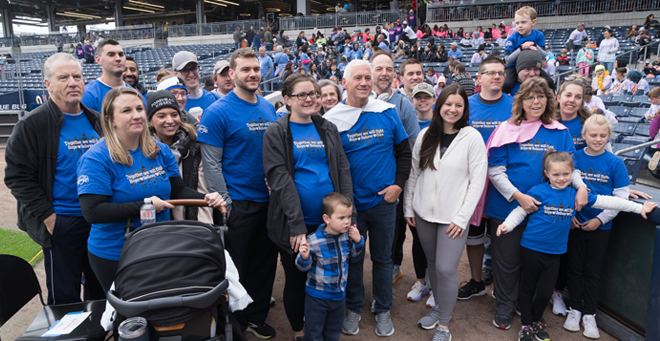 The 2023 UMass Cancer Walk presented by Harr Toyota, on Sunday, Sept. 24 at Polar Park in Worcester, will mark the 25th year of the Medical School's commitment to cancer research. All donations go directly to pediatric and adult cancer research and clinical trials for potentially lifesaving therapies at UMass Chan Medical School.
Many participants and sponsors have a personal connection to cancer.
"We are incredibly grateful for treatment, so close to home, and our chance to help fuel the passion to research this disease that affects so many of us. And if we can help them by just raising a little bit of money, that seems like a pretty good trade off to me," said third-year participant Shannon Garcia, leading Queen Vee and her Bees, in honor of her daughter, Victoria, who was diagnosed with stage 4 neuroblastoma in January 2021.
Garcia, whose goal is to raise $15,000 for the UMass Cancer Walk, describes Victoria as a "queen" with a very big personality for such a small person. She is now 3 years old and cancer free. Garcia and her husband are the catalysts behind the group's fundraising, which they do by spreading flyers around town with a QR code for those wanting to donate.
Launched in 1999, the UMass Cancer Walk has become the largest one-day, single-location fundraising event in Central Massachusetts, bringing together thousands of participants. This year the fundraising goal for the walk is $800,000.
The Doyle Dashers team is a big contributor, having raised more than $87,000 since 2017. The Doyle family walks in honor of cancer survivor Kevin Doyle, who has been diagnosed with five types of cancer, and is currently battling basal cell carcinoma and prostate cancer.
Team leader Shannon Dorsey is Kevin Doyle's daughter and is inspired by his determination.
"I just hope one day that we don't have to worry so much about it. You know, I've said before my dad has been diagnosed with five different cancers, and he's still with us," Dorsey said. "And for him to still be here . . . it's truly a miracle. And we're just so appreciative of it."
Most of the money raised by the Doyle Dashers comes via a company-wide email Kevin Doyle sends to his co-workers and partners, an attestation to how much people admire him and his resilience.
The event at Polar Park begins at 8 a.m. Harr Toyota will be the presenting sponsor for the second year. More than $450,000 has already been raised. Visit umasscancerwalk.org to start a fundraising page, become a sponsor, start a team or make a contribution.