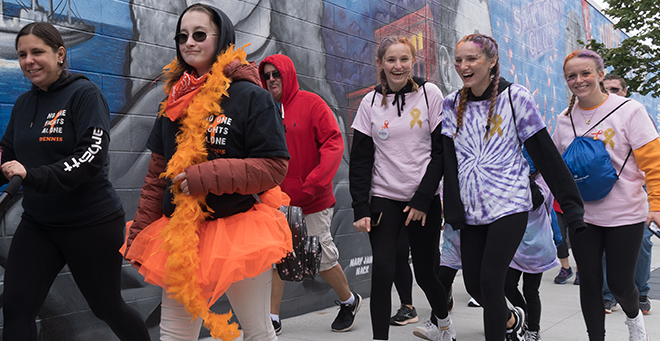 More than 3,000 people took part in the 24th annual UMass Cancer Walk and Run presented by Harr Toyota at Polar Park on Sunday, Oct. 2. Runners and walkers, many wearing capes in honor of this year's superhero theme, raised more than $700,000 for adult and pediatric cancer research and clinical trials at UMass Chan Medical School.
"The UMass Cancer Walk never disappoints," said Mike Gross, president/general manager of Harr Toyota. "There was a great turnout from our amazing community to support this cause. We are proud and grateful to be part of it!"
Jennifer Wood of Team Walking Together first took part in the UMass Cancer Walk and Run in 2017 in honor of her father, David Tatro, who was diagnosed with stage 4 metastatic squamous neck cancer that year and given six months to live. He took part in a clinical trial at UMass Chan and has been in remission for five years.
"Throughout my father's treatments he always had a smile on his face no matter how sick or tired he felt. No matter how long and worrisome the days were, his entire oncology team was always there to assist in every way possible. We truly cannot thank them enough. My father wouldn't be here walking with us this year without them," Wood said.
More than 50 people returned to Team Olivia Strong to raise funds in support of 12-year-old Olivia LaMountain of Oxford, diagnosed with acute lymphoblastic leukemia on Sept. 15, 2021, a month before last year's walk.
"Cancer was not even on my radar," said Olivia's mother, Alex LaMountain, who shared that before the diagnosis, her daughter was a healthy kid who loved to dance. Her team includes her dance family from Aspire Dance Center in Oxford.
"Olivia became a member of their competition team in 2020-2021 and they supported her by doing the 2021 UMass Cancer Walk and Run, wearing ribbons on their costumes last season during competitions and performing a dance dedicated to Olivia which she was able to join and participate in. They have become a big part of my family," Alex said.
Richard Carr is a two-time cancer survivor and president of the Carr Financial Group. A client told him about the UMass Cancer Walk and Run and after participating in the walk, Carr decided to be a sponsor and join the Steering Committee. He served as chair for two years.
"I walk out of a sense of deep appreciation for those who raised money for research long before I was diagnosed," Carr said. "It's emotional to see the families who have lost loved ones next to cancer patients and survivors all motivated by the same vision. There are lots of hugs and high fives. It's what gives life meaning–helping one another."
The following teams have raised more than $7,500 as of Oct. 3:
Team Absolute: $23,491
Team Olivia Strong: $17,001
Team Kick It "Can"cer: $15,074
The Doyle Dashers: $12,293
Team Walking Together: #FYW and TateStrong: $11,369
Team Allie's Warriors: $9,783
Team UMass Chan – IT: $8,626
Team UMassFive: $8,583
Team Karina's Crew: $8,080
Team Queen Vee and Her Bees: $7,678
Donations are still being accepted with 100 percent of the funds going toward research and clinical trials.
Related stories on UMass Chan News:
Harr Toyota announced as presenting sponsor of UMass Cancer Walk and Run
UMass Cancer Walk and Run seeking 'superheroes' for Oct. 2 event at Polar Park
UMass Cancer Walk and Run chosen as best local fundraiser event by WBJ readers
Annual UMass Cancer Walk and Run surpasses fundraising goal