In his annual Convocation address to the UMass Chan Medical School community on Thursday, Sept. 14, Chancellor Michael F. Collins embraced the Medical School's new brand, "Advancing Together," and was supported by an ensemble of local musicians who helped to illustrate the symphony of collaboration that exists across the UMass Chan campus.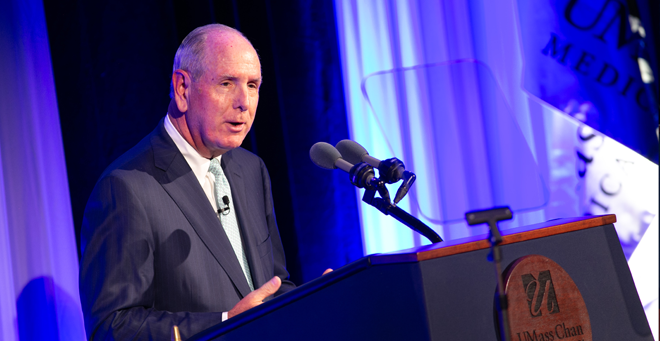 "As we gather for this convocation, a celebration of the beginnings of a new academic year, we are surrounded by the spirit of innovation and the pursuit of excellence," Chancellor Collins said. "We are reminded of the transformative power of collaboration, which at UMass Chan is not a marriage of convenience, but a purposeful and intentional commitment to a greater good."
Collins shared an anecdote from his childhood about a music teacher, and how he had wished he had taken the teacher's advice and learned to play the piano. Collins said he has had a lifelong appreciation for talented musicians. He said watching instrumentalists in an orchestra is a lot like witnessing a primary investigator convening a lab team to structure an experiment or a surgeon guiding an operating room team with "orchestral magnificence."
"Such feats, be they in the lab or clinical setting, are not achieved solely by one exceptional individual. Truly, it takes the talents of a team, working collaboratively, toward a common goal of advancing to a higher purpose," Collins said. "It's not just what we do here . . . it's how we do it. Advancing together."
Collins announced the start of the public phase of "Advancing Together: The Campaign for UMass Chan Medical School," a fundraising initiative with a goal of raising $500 million by late June 2026. The campaign, which started in 2019, raised $350 million in the silent phase. The Advancing Together marketing campaign was launched on Sept. 6, celebrating UMass Chan's "unique culture of collaboration."
A highlight of the ceremony was the announcement of the recipients of the 2023 Chancellor's Medals for excellence in teaching, scholarship, service and clinical excellence. The presentation of each award was introduced with music performed by a string quartet, comprising members of the Seven Hills Symphony, including a celloist, violaist and a pair of violinists, who were positioned at each corner of the Albert Sherman Center auditorium.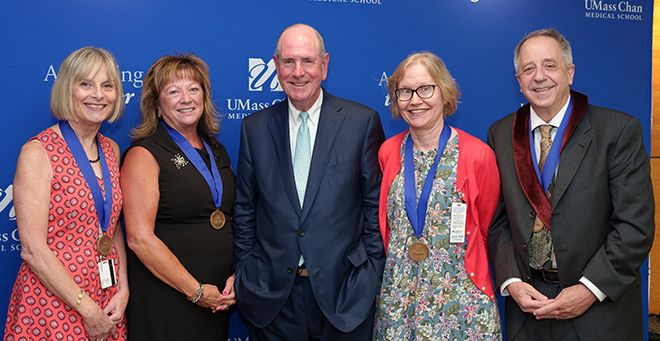 Susan Zweizig, MD, professor of obstetrics & gynecology, received the Chancellor's Medal for Distinguished Teaching. Dr. Zweizig is invited to present the 2024 Last Lecture, a celebration of teaching, and received the Manning Prize, a $10,000 prize established by former UMass Board Chair Robert Manning and his wife, Donna Manning, both of whom are UMass alums.
"Dr. Zweizig, for more than two decades you have made a major impact on the education of medical students, residents, fellows and faculty. Your record of academic innovation and reinvigoration stands apart," Collins said.
Douglas Golenbock, MD, the Neil and Margery Blacklow Chair in Infectious Diseases and Immunology, professor of medicine, chief of the Division of Infectious Diseases and Immunology, and co-director of the Program in Innate Immunity, was awarded the Chancellor's Medal for Distinguished Scholarship.
Collins said Dr. Golenbock has elucidated elegant science while leading a successful clinical division of infectious diseases, been a mentor to many, brought the scientific world together with his leadership, and broadened our students' interest in infectious diseases seen worldwide.
The Chancellor's Medal for Distinguished Clinical Excellence was presented to Kathryn Edmiston, MD, associate professor of medicine. Dr. Edmiston was invited to lead the first-year class in the recitation of the Oath of Maimonides at the 2024 White Coat Ceremony.
"It's a fitting recognition for one who has cared for so many with such compassion, empathy and concern throughout a career of true distinction," Collins said.
The Chancellor's Medal for Distinguished Service was awarded to Jill Terrien, PhD, associate professor of nursing.
Dr. Terrien is invited to carry the Medical School's ceremonial mace at events throughout the academic year.
In his remarks to Terrien, Collins said, "You are an influential nursing leader and patient advocate. You are most well-known for your service to the Greater Worcester community and have modeled your personal commitment through the creation of team-based, interprofessional, community-engaged experiences for our learners, with a focus on homelessness, substance abuse disorder and geriatric care."

Read the full convocation speech.
The following faculty members were honored and invested as endowed professors:
Andres Schanzer, MD, professor of surgery and population & quantitative health sciences and chief of the Division of Vascular and Endovascular Surgery, was invested as the inaugural Cutler Chair in Vascular and Endovascular Surgery.
Michael A. Brehm, PhD, associate professor of molecular medicine, principal investigator of the UMass Diabetes Center of Excellence and co-director of the humanized mouse core facility, was invested as the inaugural Harvey A. Shultz Chair in Diabetes.
Sharon B. Cantor, PhD, professor of molecular, cell & cancer biology, was invested as the Gladys Smith Martin Chair in Oncology.
Vaikom S. Mahadevan, MD, professor of medicine and chief of the Division of Cardiovascular Medicine, was invested as the Edward Budnitz, MD, Professor in Cardiovascular Medicine.