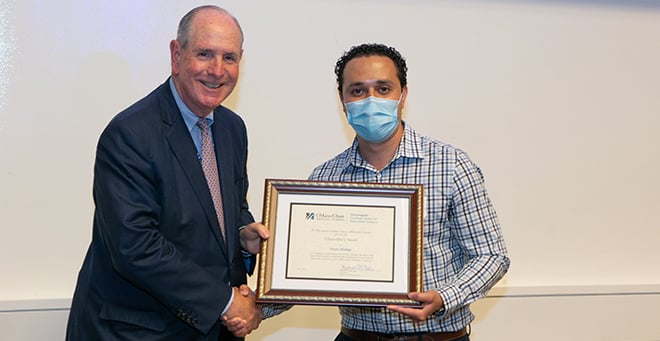 The Morningside Graduate School of Biomedical Sciences at UMass Chan Medical School honored student scientists during the 2022 Student Achievement and Leadership Awards Ceremony on Thursday, June 2.
Chancellor Michael F. Collins presented the 2022 Chancellor's Award to Daniel Hidalgo, this year's class speaker. Chancellor Collins said that Hidalgo's published work in Nature Communications is a step toward alleviating bone marrow failure and called him a champion of diversity and cultural understanding. Hidalgo is a co-founder and former president of the Medical School's chapter of the Society for Advancement of Chicanos/Hispanics and Native Americans in Science.
Mary Ellen Lane, PhD, the Donna M. and Robert J. Manning Chair in Biomedical Sciences, professor of neurobiology and dean of the Morningside Graduate School of Biomedical Sciences, presented Krishna Ghanta and Jordan Smith with the Dean's Award for Outstanding Thesis Research. Ghanta explored why long DNA honor molecules exhibit reduced activity as repair templates in CRISPR editing. Smith, an MD/PhD candidate, generated the first conditional model of hepatoblastoma, the most common pediatric liver cancer, where she explored the mechanisms of induced tumor pressure.
Sarah Cleveland and Qiu Yu (Judy) Huang, diversity and inclusion co-chairs for the Graduate Student Body Council and active participants in the Diversity Interest Group, received the Student Justice, Equity, Diversity, Inclusion (JEDI) Leadership Award. The award was created last year to honor students or a student group with a demonstrated record of excellence and achievement in promoting or enhancing JEDI in the Morningside Graduate School of Biomedical Sciences community over the academic year.
In her remarks, Lane encouraged the Class of 2022 to stay curious, compassionate and humble. She noted that student dissertation titles speak to the breadth and significance of the work that they've done.
"You've made discoveries that bring new understanding to fundamental biology and human disease. You've developed new tools that enhance investigation, diagnosis and treatments. And you've synthesized new insights that make treatment and care effective, accessible and equitable. You are addressing the big questions," Lane said.
Award recipients, some of whom will earn degrees during Commencement on Sunday, June 5, are:
Chancellor's Award
Daniel Hidalgo
Merav Socolovsky, MD, PhD, mentor
Dean's Award for Outstanding Thesis Research
Krishna Ghanta
Craig Mello, PhD, mentor
Jordan Smith
Wen Xue, PhD, mentor
Class Speaker
Daniel Hidalgo
Merav Socolovsky, MD, PhD, mentor
GSBS Career Development Awards
Emily Agnello
Brian Kelch, PhD, mentor
Silviana Lee
Sharon Cantor, PhD, mentor
Riccio Travel Awards
Jillian Gallagher
Heather Gray-Edwards, DVM, PhD, mentor
Kevin Gao
Ann Marshak-Rothstein, PhD, mentor
Havisha Honwad
Javier Irazoqui, PhD, mentor
Xuqiu Lei
Kate Fitzgerald, PhD, mentor
Kathleen Morrill
Elinor Karlsson, PhD, mentor
Shivani Nanda
Marian Walhout, PhD, mentor
Alpha Omega Alpha Awards
Alec Gramann
Craig Ceol, PhD, mentor
Jordan Smith
Wen Xue, PhD, mentor
Dean's Award for Outstanding Mid-Thesis Research
Shawn Egri
Kuang Shen, PhD, mentor
Kathleen Morrill
Elinor Karlsson, PhD, mentor
Outstanding Student Mentor in the Classroom or Research Setting Award
Kellianne Alexander
Michael Francis, PhD, mentor
Student Community Service Leadership Award
Michelle Mosqueda
Francesca Massi, PhD, mentor
Shuo (Crystal) Shan
Manuel Garber, PhD, mentor
Student JEDI (Justice, Equity, Diversity, Inclusion) Leadership Award
Sarah Cleveland
Eric Huseby, PhD, mentor
Qiu Yu (Judy) Huang
Celia Schiffer, PhD, mentor
Related UMass Chan news stories:
Morningside Graduate School of Biomedical Sciences class speaker will remind classmates to 'live in the present'
UMass Chan study shows canine behavior only slightly influenced by breed
PhD candidate studies red blood cells; strives to increase diversity in STEM
Immunology and microbiology PhD candidate aims to use her voice in science policy career