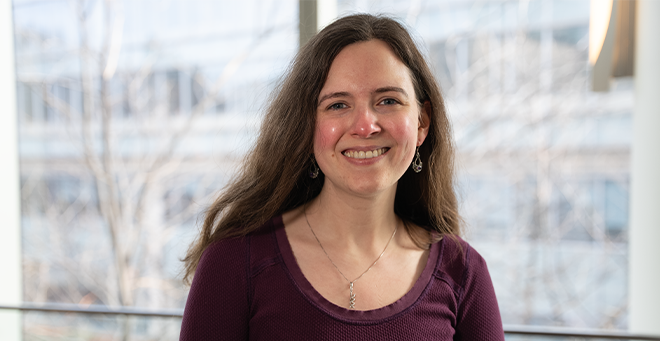 UMass Chan Medical School PhD candidate Kathleen Morrill is one of 12 recipients nationally selected for the 2023 Harold M. Weintraub Graduate Student Award.
The Weintraub Award recognizes graduate students in the life sciences on the basis of the quality, originality and significance of their work. David Weaver, PhD, professor of neurobiology, nominated Morrill for her research on the behavioral genomics of domestic dogs, which has furthered the understanding of comparative genetics toward human health and psychiatric disorders.
"Winning the Weintraub Award brings me a profound sense of gratitude," said Morrill.
Sponsored by the Fred Hutchinson Cancer Center, the Weintraub Award was established in honor of Harold "Hal" Weintraub, MD, PhD, a molecular biologist who helped found the Basic Sciences Division at Fred Hutchinson. Weintraub died of brain cancer in 1995. Morrill said she was diagnosed with breast cancer in 2020.
"Once you become a cancer patient or survivor, you start to be more mindful about what you're going to leave behind," Morrill said. "Looking at Dr. Weintraub's life and legacy, he clearly made an impact in his field and on his colleagues. I'd like to leave that same impact if I can."
Morrill, who completed her studies in the Neuroscience Program in the Morningside Graduate School of Biomedical Sciences at UMass Chan last month and will graduate in June, finds irony in the fact that her diagnosis and treatment plan were dictated by genomic tests, something at the crux of her own research.
"There's a genomic test called Oncotype DX that provides details for a tumor's expected growth. Interestingly, I participated in the NIH Health Disparities Codeathon and was on a team that was looking into the health disparities related to genomic tests, including Oncotype DX, which have been designed largely around genetic studies on patients of European ancestry," Morrill said.
Morrill is first author on a paper published in Science that suggests a dog's breed alone is not a reliable predictor of its personality and behavior traits. Morrill and her mentor, senior author Elinor Karlsson, PhD, associate professor of molecular medicine, paired genome-wide association mapping technologies with more than 18,000 pet-owner surveys obtained through Darwin's Ark, an open-source database of owner-reported canine traits and behaviors. Dr. Karlsson is director of the Vertebrate Genomics Group at the Broad Institute of the Massachusetts Institute of Technology and Harvard University.
"The Weintraub Award is the preeminent prize for dissertation work," said Karlsson. "Kathleen is a deserving recipient who has tackled difficult questions about genomics and basic biology with curiosity and tenacity. I have no doubt that this will be one among many accolades she receives throughout her career."
Morrill is now a senior computational scientist in genome analysis for Colossal Biosciences, a company aiming for the de-extinction of the woolly mammoth, the Tasmanian tiger and the dodo bird with the idea that de-extinction or recapturing these lost species could advance scientific technologies and conserve natural environments. Morrill learned she had received the Weintraub Award the day after she defended her thesis.
Since its inception in 2000, the Weintraub Award has been presented to 327 students, including eight UMass Chan alumni: Colin Conine, PhD, and Emma Watson, PhD, in 2014; Pedro Batista, PhD, and Chengjian Li, PhD, in 2010; Marcus Noyes, PhD, in 2009; Diane Schwarz, PhD, in 2005; and Alla Grishok, PhD, in 2002. Dr. Watson is now assistant professor of systems biology at UMass Chan.