Melissa Goulding, a PhD candidate in the Morningside Graduate School of Biomedical Sciences Clinical and Population Health Research (CPHR) Program, has received a Ruth L. Kirschstein National Research Service Award Individual Predoctoral Fellowship from the National Heart, Lung and Blood Institute. Goulding will use the three-year grant to examine the extent to which local providers adhere to clinical practice guidelines for screening children for high blood pressure.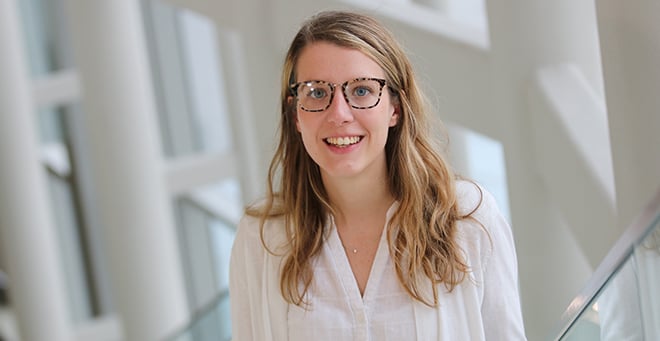 "We know from research that there's a trajectory of cardiovascular health that starts in childhood and follows you throughout life. Screening, identification and management of blood pressure in childhood is a great way to prevent the high prevalence of cardiovascular disease in adults, and also hopefully prevent some of the disparities that we see in cardiovascular disease in adults, such as racial and ethnic disparities," Goulding said.
In 2017, the American Academy of Pediatrics released updated guidelines for pediatric blood pressure screening, recommending screening all children at least once a year and those who are considered obese at every visit, and changed criteria for diagnosing hypertension. Goulding is the corresponding author on a 2021 study that found nationwide, about 1 in 25 kids ages 3 to 17 has hypertension, and 1 in 14 has elevated blood pressure.
Healthy Kids & Families, an applied research project of the UMass Chan Prevention Research Center, measured the blood pressure of public school students in Worcester as part of a 2017 intervention to reduce obesity. Goulding studied that data and observed that the prevalence of elevated blood pressures in this group was higher than what one would expect to see based on national data: about 30 percent. And of about 200 parents surveyed, fewer than five said they knew their child had high blood pressure.
"That sparked the question of is there no recognition of high blood pressure because the kids aren't being screened for it and the providers don't know they have it? Or are the kids being screened, the providers know it's in the chart, but it just isn't being communicated and getting to the parents? So that's what led us to write this proposal so that we can start investigating how blood pressure screening for kids is being handled in routine clinical practice," Goulding said.
Goulding will look at electronic health record data from UMass Memorial Health outpatient pediatric clinics to see to what extent the 2017 AAP guidelines are being followed and at follow-up care. She will assess associations between guideline adherence and child-level and clinic-level factors to determine if the kids at the greatest risk for high blood pressure are being screened. She'll also conduct qualitative interviews with providers to understand their perspectives on high blood pressure in children. This work aims to uncover barriers and facilitators to pediatric blood pressure screening and management, which can be targeted by future interventions to improve preventive pediatric care.
Goulding is a Holyoke native who has a bachelor's degree in biology from Emmanuel College and a Master of Science degree in medical sciences from Boston University School of Medicine. Goulding had to conduct research as part of the master's program, which she did through UMass Chan Medical School's Emergency Department. The experience sparked her interest in clinical research, UMass Chan and the CPHR program.
Goulding's sponsor is Stephenie Lemon, PhD, the Marcellette G. Williams Scholar, professor of population & quantitative health sciences and co-director of the UMass Worcester Prevention Center.
"Like many other chronic conditions typically occurring in adults, hypertension among youth has been rising and there are established health disparities," Dr. Lemon said. "Melissa's research will be among the first to study the implementation of pediatric hypertension clinical guidelines.  A particularly exciting aspect of this work is that it will use data from our clinical partner, so it will help further our local understanding of this issue while generating important generalizable knowledge."
Related UMass Chan news stories:
PhD student Megan Honeywell receives prestigious Ruth L. Kirschstein Predoctoral award
PhD student John Haley receives NIH fellowship to research metabolic signaling in the liver
PhD student Catherine Nagawa examining link between social networks, smoking cessation with new NIH award
Nick Peterson and Samantha Tse named Ruth L. Kirschstein National Research Service Award recipients
Kevin Gao receives Kirschstein Award for research into role of B cells in pulmonary fibrosis caused by SAVI