Megan Honeywell, a PhD student in the Morningside Graduate School of Biomedical Sciences, was awarded a highly competitive Ruth L. Kirschstein Predoctoral Individual National Research Service Award from the National Cancer Institute. The two-year award enables promising predoctoral students to obtain mentored research training while conducting dissertation research.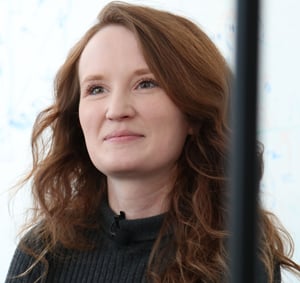 Honeywell studies in the lab of Michael Lee, PhD, associate professor of systems biology, where she is researching cell death and DNA-damaging drug therapies. Eric Baehrecke, PhD, professor of molecular, cell & cancer biology, and Dr. Lee are her mentors.
The award will support her research into how the DNA damage response turns on different regulated death pathways. She is specifically interested in how the tumor suppressor protein p53 controls this function. Because of p53's role in regulating DNA repair and cell division, it has been nicknamed the "guardian of the genome."
"Normally when healthy cells undergo DNA damage, p53 will either turn on cell cycle arrest so the cells can stop and fix the damage, or they will turn on cell death if the cell is basically too far gone. This allows damaged cells to self-destruct so that you don't get cancer," Honeywell said.
But in many cancers, the gene for p53 is mutated. In her preliminary studies, Honeywell found that the cells can turn on cell death, even when they don't have p53.
She is working to understand what kind of cell death is turned on by the DNA damage response in the absence of p53 and how it is all regulated, so scientists can better stratify their treatments for people with cancer, particularly those with mutated p53 types of cancer, because they tend to be very aggressive and highly mutagenic.
Honeywell's passion for science was ignited at a young age. She grew up in Texas and began taking classes and volunteering at a local science museum when she was 9. She and her family moved to Massachusetts when she was 13.
"My mom would tell you she always knew I was going to be a scientist," Honeywell said.
She pursued her calling for science and earned a bachelor's degree in biochemistry, molecular and cellular biology from the University of New Hampshire, where she also received two fellowships from the Hamel Center for Undergraduate Research.
"I have family members who had cancer, which I think is probably true of a lot of people who want to go into cancer biology," she said. "Sometimes research is hard and there are days when things don't work. But it's nice to know you're doing something for cancer biology and to help people who have cancer."
Lee said understanding how p53 controls cell death following DNA damage is a question that has been studied for more than 30 years, and many of the luminaries in the cancer biology community made their names by making key contributions to our current understanding of this process.
He said Honeywell has identified an unexpected role for p53 in dictating not how often cells die, but which death pathway is used.
"Megan is extraordinarily gifted. She has all the qualities that are needed to thrive as an independent scientist: intelligence, creativity and impeccable work ethic," Lee said. "I'm particularly impressed with her ability to think outside of the box, which is evident both in her chosen approaches and how she views the established literature. She has been truly fearless, learning whatever methods are needed to address the questions at hand."
Related UMass Chan news stories:
GSBS recognizes 57 students for achieving milestone in biomedical sciences graduate training
PhD student John Haley receives NIH fellowship to research metabolic signaling in the liver
PhD student Catherine Nagawa examining link between social networks, smoking cessation with new NIH award