Catherine Nagawa, a PhD student in the Clinical & Population Health Research Program of the Graduate School of Biomedical Sciences, has received a National Institutes of Health's Ruth L. Kirschstein National Research Service Award Individual Predoctoral Fellowship to Promote Diversity in Health-Related Research. The award will fund her research exploring how family and friends play a role in how people with mental health conditions quit smoking tobacco.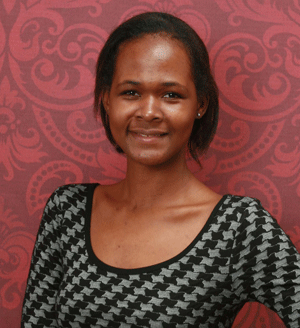 "My long-term career goal is to become a behavioral scientist focused on tobacco control and cardiovascular disease prevention among high-risk populations," Nagawa said. "My current research interests emerged out of my aspiration to apply my undergraduate academic work, which heavily focused on statistics and mathematics, to the complex nature of human difficulties and contribute to efforts that enhance health and well-being."
According to Nagawa, smoking cessation programs have reduced overall smoking rates, but disparities still exist. The rate among smokers with mental health conditions greatly exceeds that of the general adult population. Using her background in epidemiology, Nagawa is investigating how a person's social network can lead to the decision to quit smoking.
"Those closest to us can impact our choices," she said. "Social barriers, such as pro-smoking social norms and unsupportive behaviors of social network members, greatly reduce one's chances of quitting smoking. On the other hand, supportive behaviors from family members, close friends or peers may contribute to successful quitting. In my research, I am exploring how support from family members and close friends can be redirected in a positive way to increase the rates of quitting in smokers with mental health conditions."
Nagawa is analyzing a data sample of about 2,000 smokers with mental health conditions from the Population Assessment of Tobacco and Health (PATH) study, a national FDA/NIH-funded survey that interviews participants annually. She will evaluate associations between smokers' characteristics and family/peer influences and smoking cessation. The study will also qualitatively explore social and clinical barriers and facilitators to smoking cessation and inclusion of family/peer support as well as health care providers.
"I am applying social influence and social pressure conceptual frameworks to understand how associations between the social circle and the individual work to improve well-being. This research will contribute to development of suitable smoking cessation interventions that leverage the social dynamics to influence health behavior change.," she said.
Nagawa will receive $33,194 from the NIH annually for three years. She hopes this study will foster a long-term career goal of developing independent research committed to tobacco-use prevention and how implementation science can be used to help people living with mental health conditions quit smoking permanently.
"If we educate family members and friends on how to deliver advice to the smoker, then perhaps we can drive higher quit rates in this population."
Related stories on UMassMed News:
Nick Peterson and Samantha Tse named Ruth L. Kirschstein National Research Service Award recipients
Kevin Gao receives Kirschstein Award for research into role of B cells in pulmonary fibrosis caused by SAVI
PhD candidate receives NIH fellowship award for study on diagnosis of multiple myeloma precursor condition