The principal investigator of an ongoing clinical trial of Pfizer-BioNTech's COVID-19 mRNA vaccine said UMass Medical School intends to start enrolling by the end of June approximately 100 participants from its initial Pfizer trial in a study of a vaccine booster. The booster would be given roughly six months after participants received their second shot of the original vaccine.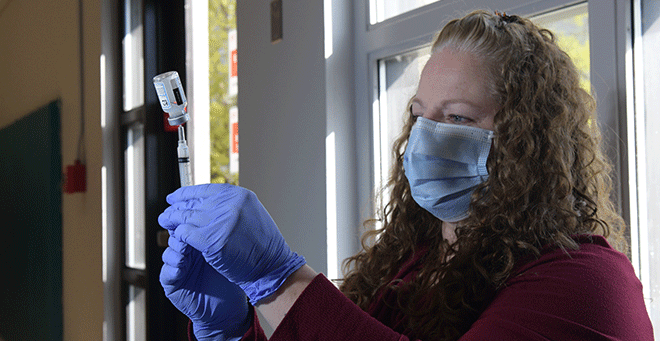 "The vaccine has obviously been shown to be incredibly effective for six months," said Robert Finberg, MD, distinguished professor of medicine and a member of Gov. Baker's COVID-19 Advisory Group. "The question is, what happens after that? So, this is going to be a Phase III trial of 10,000 people across the world and they're going to be randomized to either get a placebo or a third shot of the same vaccine that they had two doses of."
Researchers will look at cases of COVID-19 in two groups, those aged 16 to 55 and adults over age 55, according to Dr. Finberg.
With more than 150 cases in Massachusetts reported earlier this spring of the Delta variant, first detected in India and considered more transmissible and potentially more serious than previous strains, the need to stay on top of the mutating virus is important.
"So far, so good. It looks like we're not seeing breakthrough cases with the Delta variant," Finberg said. "The question is, how long does the vaccine's effectiveness last? And the other question is, will we need to create another vaccine in the future?"
The clinical trial will look only at a booster dose of the same type and maker, in this case Pfizer-BioNTech, as participants' initial doses. But Finberg said the National Institutes of Health and scientists in the United Kingdom are investigating whether the manufacturer or type of COVID-19 vaccines could differ among an individual's doses.
Pfizer-BioNTech and Moderna's vaccines insert messenger RNA (mRNA) from the virus, a set of protein-building instructions that is inserted into the cytoplasm of a cell. The cell then turns this mRNA into a viral protein and activates an immune response. Both these vaccines are given in two shots.
The Johnson & Johnson vaccine differs slightly, in that it involves a single dose using a modified adenovirus to deliver a little piece of DNA to the cell that will make the spike protein. After cells create the spike protein, the body makes antibodies and T cells to protect against the invader.
Maryland-based biotech company Novavax recently announced it plans to seek Food and Drug Administration authorization in the United States for a fourth vaccine, after clinical trials showed it also to be safe and highly effective. The two-dose vaccine "is a more conventional nanoparticle-delivered protein vaccine and it would be easy to give and store, so again that is good news," Finberg said.
Related stories on UMassMed News:
Moderna's TeenCOVE study of COVID-19 vaccine, with UMMS participants, meets primary endpoints
UMMS helps gather data leading to eased CDC guidelines for fully vaccinated individuals