UMMS helps gather data leading to eased CDC guidelines for fully vaccinated individuals
Project followed health care workers who received COVID-19 test
Preliminary data published this month from a surveillance project conducted at UMass Medical School, evaluating the effectiveness of the Pfizer-BioNTech and Moderna vaccines, played a critical role in new guidelines by the Centers for Disease Control and Prevention that no longer require fully vaccinated individuals to wear masks indoors or to socially distance from others. On May 29, fully vaccinated individuals in Massachusetts will no longer need to wear masks inside.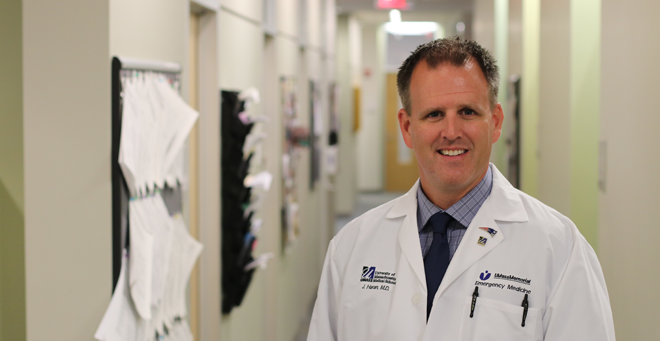 "This is real world evidence that these vaccines work. If you get the vaccine, you're protected from getting COVID," said John P. Haran, MD, PhD, associate professor of emergency medicine and microbiology & physiological systems; clinical director of the UMass Center for Microbiome Research; and principal investigator of the project at UMass Medical School. "When you combine this with the clinical studies the companies did and the results of other work published this past month, it really validates the fact that these vaccines are incredibly effective at preventing the spread of the SARS-CoV2 virus that causes COVID-19."
The PREVENT project, conducted at 33 sites across 25 U.S. states, found that the Pfizer-BioNTech and Moderna vaccines were 82 percent effective at preventing SARS-COV2 symptoms. Two shots of the messenger RNA-based vaccines were even more effective – 94 percent according to the data. The data was published in the CDC's Morbidity and Mortality Weekly Reporter for May 14.
The CDC-funded project followed health care workers who received a COVID-19 test at UMass Memorial Health to track cases of COVID-19. Workers who tested either positive or negative for COVID-19 were then screened to see if they had already received a vaccine and whether they had gotten one or two shots. Analysis of this data overwhelmingly showed that those who were testing positive for COVID-19 had yet to receive a dose of either vaccine.
"With science, evidence builds up over time," said Haran. "It wasn't just our group that saw this. Two other independent groups have now verified that results from the clinical trials run by the vaccine companies are what we are seeing in a real-world setting. This information gave the CDC the confidence to move forward and change the guidelines for fully vaccinate individuals."
As the surveillance project continues and more data becomes available, Haran and his colleagues hope to use this information to keep track of potential rises in cases that might point to a need for booster shots or to the emergence of new viral variants.
"As the distribution of the vaccine lengthens out over time, its important to have a large population with a wide cross section of data points so we can get better data and more evidence about how this virus is responding to the vaccine."
Haran estimated that as many as one in six of the study participants came from UMass Medical School. He estimated that 80 percent of eligible health care staff participated in the project. "This project was a wonderful collaboration between the Medical School and UMass Memorial. It was this strong collaboration that allowed us to accumulate the data that we did and that's had a real-time impact on health care policy. That's not something you see very often."
Related stories on UMassMed News
New study of oral therapy candidate indicates positive results for patients with mild-to-moderate COVID-19
UMass Medical School taking part in CDC project on COVID-19 vaccine in health care staff