Moderna's TeenCOVE study of COVID-19 vaccine, with UMMS participants, meets primary endpoints
COVID-19 vaccine manufacturer Moderna announced on May 25 that its mRNA vaccine works in teens and it plans to submit to federal regulators data for emergency use authorization in early June.
UMass Medical School is a study site for the Phase II/III study of Moderna's COVID-19 vaccine in adolescents between ages 12 and 17, called TeenCOVE.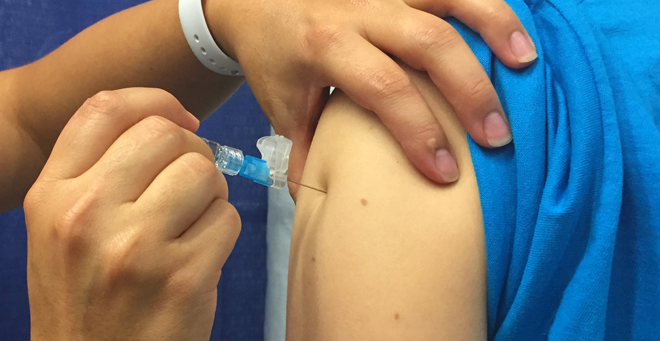 According to a news release from Moderna, data from the more than 3,700 participants in TeenCOVE showed that teen vaccine recipients had similar levels of immune responses when compared to adult vaccine recipients. In the study, no cases of infection were observed in participants 14 days after the second dose of the Moderna COVID-19 vaccine using the Centers for Disease Control and Prevention's primary definition, while four cases were reported in the placebo group.
Because the incidence rate of COVID-19 is lower in adolescents, a secondary case definition based on the CDC definition of COVID-19 was also evaluated to include cases presenting with milder symptoms. Using this secondary definition, which requires only one COVID-19 symptom and nasopharyngeal swab or saliva sample positive for SARS-CoV-2 by RT-PCR, a vaccine efficacy of 93 percent after the first dose was observed.
The Moderna vaccine was generally well tolerated, with no significant safety concerns identified to date, according to the manufacturer. The most commonly reported side effects were mild or moderate pain at injection site; headache; fatigue; muscle aches and chills. Participants will continue to be monitored for 12 months.
"Once again, we are grateful to the many teens and their families who have stepped up to participate in the trial," said UMMS site principal investigator, Katherine Luzuriaga, MD, the UMass Memorial Health Chair in Biomedical Research; professor of molecular medicine, pediatrics and medicine; director of the CCTS; and vice provost for clinical and translational research. "The significant time and effort that they have devoted to the study have been critical to the rapid yet careful evaluation of this vaccine. Continued follow-up of study participants over a year will provide additional data on the longer-term safety and efficacy of the vaccine."
Earlier this month, the Food and Drug Administration granted emergency use authorization to Pfizer-BioNTech for its mRNA vaccine's use in ages 12 and older.
UMMS investigators, led by Dr. Luzuriaga, are also conducting KidCOVE, a Phase II clinical trial of Moderna's vaccine for children ages 6 months to 11 years.
Related stories on UMassMed News:
Early data from TeenCOVE study shows Moderna COVID-19 vaccine effective, safe for ages 12-17
We're building a vaccine corps of medical and nursing students – it could transform efforts to vaccinate underserved areas