Thomas Feldborg and Daria Rokina, of Denmark, chose to enroll their baby daughter, Alissa, in an investigational gene therapy for the treatment of GM2 gangliosidosis, which causes Tay-Sachs and Sandhoff diseases, to "let hope conquer the fears," according to a report in USA Today chronicling their journey.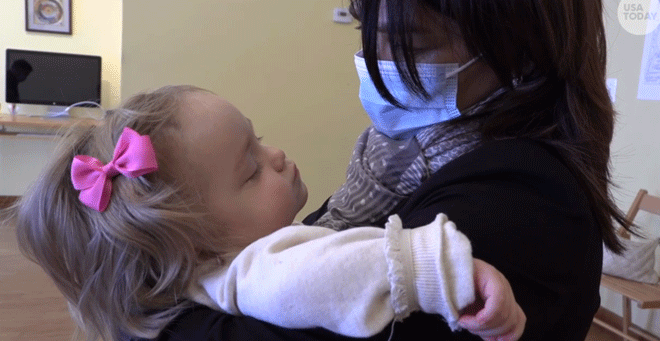 Alissa, diagnosed with the rare and fatal genetic disorder called Sandhoff disease, was the first clinical trial participant to receive AXO-AAV-GM2 in the Phase I/II trial run by Sio Gene Therapies. The child, who is 16 months old, received the treatment in January at UMass Medical School's clinical partner, UMass Memorial Medical Center.
The study, based on technology developed at and licensed from UMass Medical School, is an open-label, two-stage, clinical trial designed to evaluate safety and dose-escalation, and the safety and efficacy of surgical delivery of AXO-AAV-GM2 directly to the brain and spinal fluid of pediatric participants with both infantile and juvenile GM2 gangliosidosis. Sio, formerly known as Axovant, licensed exclusive worldwide rights from UMass Medical School for the development and commercialization of gene therapy programs for GM1 gangliosidosis and GM2 gangliosidosis, including Tay-Sachs and Sandhoff diseases.
Terence R. Flotte, MD, the Celia and Isaac Haidak Professor, executive deputy chancellor, provost and dean of the School of Medicine, told USA Today reporter Karen Weintraub that since the treatment, Alissa's condition has been stable at an age when most children with the disease are declining.
Research into the causes and potential therapies for lysosomal storage diseases such as Tay-Sachs and Sandhoff diseases and GM1 gangliosidosis at UMass Medical School by Miguel Sena-Esteves, PhD, associate professor of neurology and a principal scientist of the research program at UMMS; and Heather Gray-Edwards, DVM, PhD, assistant professor of radiology at UMass Medical School and a member of the development team for the research discoveries; in conjunction with Douglas Martin, PhD, professor of anatomy, physiology and pharmacology at the Auburn University College of Veterinary Medicine, has led to significant advances in the field, including development of the gene therapy vector used to deliver functioning copies of the defective genes that cause disease.
GM2 gangliosidosis is a set of rare, monogenic neurodegenerative lysosomal storage disorders caused by mutations in the genes that encode the enzyme β-Hexosaminidase A. It can be categorized into two distinct diseases, Tay-Sachs disease and Sandhoff disease. Children affected by GM2 gangliosidosis suffer from a progressively debilitating disease course and reduced life expectancy.
Read the full USA Today report, published April 25, at: An experimental gene therapy was little Alissa's only hope. Now, instead of certain death, she faces an uncertain future.
Related stories on UMassMed News:
FDA clears IND application for Tay-Sachs gene therapy
Axovant Gene Therapies receives rare pediatric disease designation for AXO-AAV-GM1 for GM1 gangliosidosis
First evidence of clinical stabilization in Tay-Sachs presented at European Society of Gene & Cell Therapy Congress