Sio Gene Therapies, a company focused on developing gene therapies to radically transform the lives of patients with neurodegenerative diseases, announced that the first patient with infantile Tay-Sachs disease has been dosed in a Phase I/II trial evaluating AXO-AAV-GM2, an investigational gene therapy for the treatment of GM2 gangliosidosis, which causes Tay-Sachs and Sandhoff diseases.
Sio, formerly known as Axovant, licensed exclusive worldwide rights from UMass Medical School for the development and commercialization of gene therapy programs for GM1 gangliosidosis and GM2 gangliosidosis, including Tay-Sachs and Sandhoff diseases.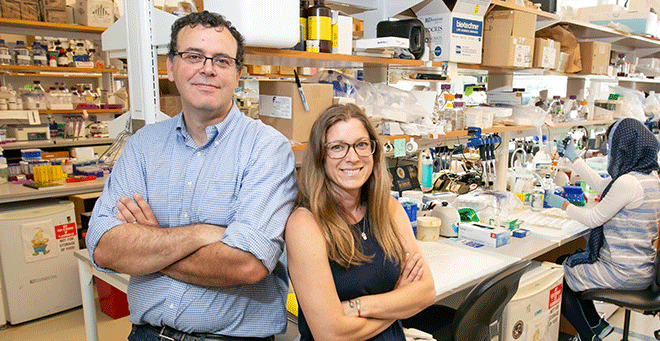 "The families of children with Sandhoff and Tay-Sachs diseases show incredible bravery in choosing to participate in investigational studies of novel therapeutics like AXO-AAV-GM2. We share their hope that this treatment can halt or reverse the otherwise inexorable course of these tragic diseases," said Terence R. Flotte, MD, the Celia and Isaac Haidak Professor, executive deputy chancellor, provost and dean of the School of Medicine and principal investigator of the trial.
The study is an open-label, two-stage, clinical trial designed to evaluate safety and dose-escalation and safety and efficacy of surgical delivery of AXO-AAV-GM2 directly to the brain and spinal cord of pediatric participants with both infantile and juvenile GM2 gangliosidosis.
AXO-AAV-GM2 has been granted Orphan Drug and Rare Pediatric Disease Designation by the FDA and is the first investigational gene therapy to enter clinical trials for GM2 gangliosidosis. In 2019, clinical evidence from two patients under an investigator-initiated study found that treatment with AXO-AAV-GM2 was generally well tolerated and associated with improved bioactivity outcomes.
Research into the causes and potential therapies for lysosomal storage diseases such as Tay-Sachs and Sandhoff diseases and GM1 gangliosidosis at UMass Medical School by Miguel Sena-Esteves, PhD, associate professor of neurology and a principal scientist of the research program at UMMS; and Heather Gray-Edwards, DVM, PhD, assistant professor of radiology at UMass Medical School and a part of the development team for the research discoveries; in conjunction with Douglas Martin, PhD, professor of anatomy, physiology and pharmacology at the Auburn University College of Veterinary Medicine, has led to significant advances in the field, including development of the gene therapy vector used to deliver functioning copies of the defective genes that cause disease.
GM2 gangliosidosis is a set of rare, monogenic neurodegenerative lysosomal storage disorders caused by mutations in the genes that encode the enzyme β-Hexosaminidase A. It can be categorized into two distinct diseases, Tay-Sachs disease and Sandhoff disease. Children affected by GM2 gangliosidosis suffer from a progressively debilitating disease course and reduced life expectancy.
"We are proud to bring the first potentially disease-modifying treatment for GM2 gangliosidosis to the clinic, which is a milestone both for Sio, for patients and for the field of gene therapy," said Gavin Corcoran, MD, chief R&D officer of Sio. "By restoring lysosomal enzyme activity where it is essential, AXO-AAV-GM2 has the potential to change the course of this disease and help affected children attain and retain important neurodevelopmental milestones. The prior investigator-initiated study of AXO-AAV-GM2 provided important proof-of-concept data and we look forward to the results of the first stage of our study as we strive to develop a treatment for children suffering from this rapidly progressive and fatal disease."
Sio aims to advance the program through strategic partnerships with leading research organizations. The company has a partnership with Viralgen, an AskBio subsidiary, to support AAV-based vector manufacturing of clinical trial material for the registrational study. Additionally, through an existing genetic testing collaboration with Invitae, ongoing partnership with GM2 gangliosidosis patient groups, and collaboration with leading academic researchers at UMass Medical School and Massachusetts General Hospital, Sio has begun patient identification and site startup activities for the ongoing clinical study.
Related stories on UMassMed News:
FDA clears IND application for Tay-Sachs gene therapy
Axovant Gene Therapies receives rare pediatric disease designation for AXO-AAV-GM1 for GM1 gangliosidosis
First evidence of clinical stabilization in Tay-Sachs presented at European Society of Gene & Cell Therapy Congress