Second-year medical students lead course on intersection between wilderness and emergency medicine
If someone breaks a leg during a hike in the woods, how does a bystander respond? What can be done to help? These are the questions that a group of second-year School of Medicine students are helping to answer in their wilderness medicine optional enrichment elective.
The student-led, seven-session course teaches medical students how to identify and manage common injuries and emergencies that happen in the outdoors. On topics ranging from ankle sprains to high altitude illness, the students provide insite on how to create makeshift tools to potentially save a limb or even a life.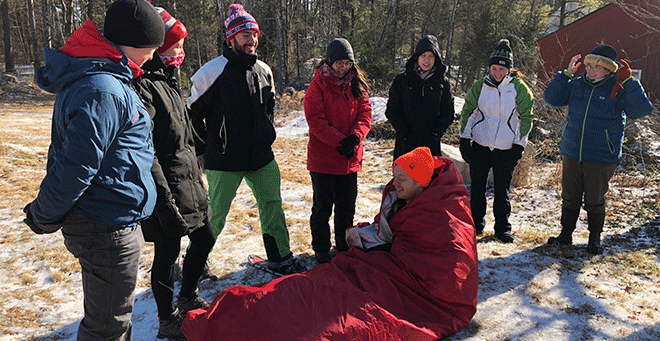 "It's all about using the resources you have in the environment you're in to treat injuries ranging from minor to serious and even life-threatening situations." said Emily Vicks, SOM '23, a student in the Population based Urban and Rural Community Health (PURCH) program.
"We cover a variety of scenarios in our training, such as responses in avalanches, natural disasters and beyond," said Charles Feinberg, SOM '23. "These situations occur all the time and can happen anywhere, so it's great to be prepared to jump into action."
Participants learn how to improvise a variety of first aid essentials, such as crutches, splints and backboards to stabilize an injured person's neck and head. The students use only the materials they have with them, which forces them to get creative.
"Wilderness medicine is like MacGyver medicine," said John Karpuk, SOM '23. "You learn how to slap together ski poles, backpacks and water bottles into a device that could potentially rescue someone."
"We spread out our curriculum over the course of the entire year," said PURCH student Nathan Taber, SOM '23. "This way, we can get exposure to a broad range of seasons and conditions, practicing responses to hypothermia, heat stroke and things of that nature."
"We teach a concept called 'stay or go,' which is the decision to stay put and call for help or attempt to evacuate a scene on your own," said Molly Olmsted, SOM '23. "Although everyone might not find themselves in these kinds of situations, it's important as future doctors to understand how different emergencies could be handled."
The course is best conducted in person and COVID-19 has put some activities on hold due to social distancing requirements. However, during the warmer months, the group held some small outdoor sessions for hands-on experience. Throughout the winter, students will hold virtual workshops and lectures, covering topics such as careers in wilderness medicine and medical kit building.
"UMass Medical School has been very accommodating and helpful in this process. We're able to do what we can in person, but as things evolve, we will see how we can transition our plans and lessons," said Eileen McGarry, SOM '23.
"The student organizers have worked hard to find creative ways to teach what is usually a hands-on, interactive course in a safe but still engaging manner," said Hillary Irons, MD, PhD, assistant professor of emergency medicine and optional enrichment elective faculty advisor. "They have been focused on learning but flexible with teaching methods in this unprecedented time."
Related stories on UMassMed News:
UMass Medical School pair lay groundwork for COVID-19 DCU field hospital
UMass Medical School students incorporating firearm safety in health care education