ScienceLIVE brings virtual labs to area middle school students
UMass Medical School, working with Technocopia, to provide virtual science during COVID-19 pandemic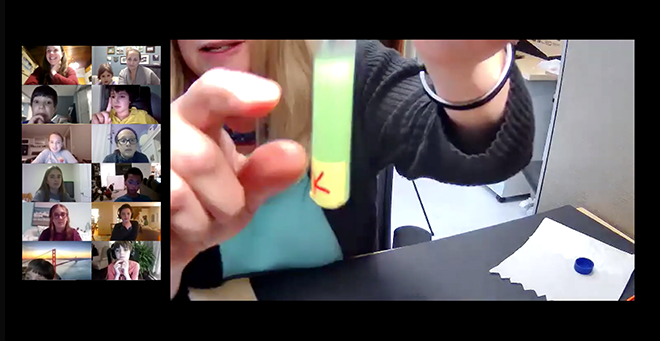 The researcher could see the lightbulb moment when a boy got hooked on science.
Through a new program called ScienceLIVE (Learning with Interactive Virtual Education), the middle school student had watched UMass Medical School's Mary Pickering, PhD'06, separate DNA from kiwis and a banana during a Zoom presentation and connected it to what he remembered about DNA in the science-fiction movie, Jurassic Park.
"He said, I want to be a scientist. Now I'm definitely going to do this," said Angela Messmer-Blust, PhD, assistant professor of RNA therapeutics and senior scientific advisor in the RNA Therapeutics Institute, who coordinates outreach for ScienceLIVE.
"I want to get those wheels turning," said Pickering, senior scientist in the lab of Nicholas Rhind, PhD, professor of biochemistry & molecular pharmacology. "I want them to start making connections between different experiences that they've had and from experiences they're currently drawing from."
The RNA Therapeutics Institute and Sanderson Center for Optical Experimentation have partnered with Technocopia Inc., a nonprofit community makerspace in downtown Worcester, to develop ScienceLIVE, an outreach program for students in Worcester-area schools or home schools. The aim is to foster educational opportunities by creating a program in which diverse graduate students and postdoctoral fellows facilitate exciting, hands-on activities for middle school students (ages 10-13), all designed for virtual teaching during the COVID-19 pandemic. Organizers say they hope the initiative will extend beyond the pandemic.
ScienceLIVE kicked off on Oct. 16. UMMS scientists developed and are presenting four of the eight workshops scheduled through Dec. 11. The UMMS modules were filled, with a maximum of 50 participants, within a few days of opening registration, Dr. Messmer-Blust said.
Fall workshops included sessions on brain science (exploring neurobiology), the building blocks of life (cell and molecular biology) and the immune system. Next up is a Nov. 6 session on designing prosthetic limbs with medical students Nadia Eshraghi, SOM '21, Christine Hebert, SOM '21, and Brittany Dacier, SOM '21.
Technocopia staff connected with UMMS last year, when homeschooled students came to SCOPE for exposure to research labs and to see "our really cool microscopes," said Christina Baer, PhD, assistant professor of microbiology & physiological systems and director of SCOPE. With the move to remote learning last spring because of the COVID-19 pandemic, Dr. Baer said she and her colleagues looked to find a way to build engaging online science education modules.
The UMMS Office of Community and Government Relations and the Diversity and Inclusion Office paved the way for bringing ScienceLIVE to all 3,600 Worcester public school seventh- and eighth-grade students in spring 2021. The Medical School is funding the program.
"The support will help us to really keep things moving and to get a diverse array of faces representing the scientific community here at UMass into the schools, so kids can see a wide variety of role models that will hopefully inspire them when it comes to STEM," Baer said.
Organizers targeted a range of interdisciplinary topics so students could see connections between, for example, molecular biology and computer bioinformatics. "We wanted to give them little snapshots of different fields of biology that they could study," Pickering said.
Science LIVE also plans to host a virtual health science career day for eighth grade students, bringing in the gamut of STEM and health professionals—from veterinary technicians to registered nurses, to lab researchers and clinicians.
"We really wanted to focus on the interactive experience," said Athma Pai, PhD, assistant professor of RNA therapeutics. She had heard disheartening stories from classroom teachers about limited resources and available time for hands-on experiments. Science LIVE presenters give follow-up projects for students to try at home, after interacting with a scientist over Zoom.
ScienceLIVE workshops also aim to make it fun for students to understand that science isn't just esoteric numbers on a page, but that it integrates computers, engineering and other tools, which makes learning abstract subjects like higher-level math more meaningful, Dr. Pai said.
Another focus of ScienceLIVE is to involve postdoctoral fellows and trainees in sharing science in the community, Messmer-Blust said. Future workshop presenters are still being recruited, and organizers are encouraging volunteers from diverse backgrounds to participate.
By middle school, girls and underrepresented minorities often start turning away from paths that lead to STEM careers," said Messmer-Blust.
"If kids are not getting that experience and that opportunity at a young level to know someone who looks like them who is into science, it really drops off," she said. "That was a huge factor for us."