Page Menu
What is HYPE?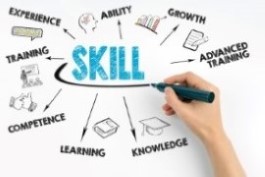 HYPE (Helping Youth on the Path to Employment) is a manual-based intervention to support transition-aged youth and young adults with mental health conditions to develop their careers. Our goal is to deliver state-of-the-art supported education services, designed to help young adults achieve their goals in work and school, in order to gain competitive employment in the primary labor market which will enable them to live meaningful and economically self-sufficient lives. HYPE is built off of the values and practices of Individualized Placement and Support (IPS) approach to Supported Employment (SE) and Supported Education (SEd) and modernizes services by prioritizing education early.
HYPE develops essential skills that assure success
HYPE services focus on developing and refining skills so that young adults can master critical skills and use them when needed across different roles and environments. Skills that cut across both educational and employment environments include clarifying assignments, managing time, completing assignments on time, preparing for exams or meetings, responding to feedback, managing internal distractions, and negotiating with employers or professors. HYPE provides detailed assessments and guides for practitioners to help young adults to develop such skills.
Why HYPE is Needed
The HYPE project and related activities (see Activities that Informed HYPE) are designed to address the profound underemployment and unemployment of transition age youth and young adults by designing supports and strategies to help successfully launch them into lifelong career trajectories. Transition age youth and young adults are preparing to enter the labor force and are often at the critical juncture between leaving secondary education and the early steps of building a career path.
Our target population is 18-30 year olds who have a mental health condition that gets in the way of a meaningful life. Our integrated model of employment and education services addresses career development needs of this population, including individuals with co-occurring disorders.
Education Statistics
Students with mental health conditions often struggle at every level of education. Over 50% of students over the age of 14 end up dropping out of high school, making mental health conditions the disability group with the highest dropout rate. About 40% of the general young adult population goes on to attend college, but that number is only 7-26% for young adults with mental health conditions. Students with mental health conditions have high dropout rates (86%) and low graduation rates in comparison to their peers1. Although the statistics show that attainment of a college degree has additional barriers for young adults with mental health conditions, the graph also shows how important education can be in protecting youth from unemployment and poverty.
1. Kessler, R. C., Foster, C. L., Saunders, W. B., & Stang, P. E. (1995). Social consequences of psychiatric disorders I: Educational attainment. The American Journal of Psychiatry, 152(7), 1026-1032. Retrieved from: https://psycnet.apa.org/doi/10.1176/ajp.152.7.1026
What is Supported Education?

HYPE's supported education approach (SEd) is an intentional coaching model provided to young adults with mental health conditions who are interested in returning to and completing their education. SEd is designed to maximize performance, increase persistence, and minimize the number of disruptions students experience. HYPE achieves this goal by developing critical skills, connecting to valuable resources, and educating students on helpful accommodations and assistive technology. Education is a critical vocational step that is often required in order to achieve economic self-sufficiency and long-term, personally meaningful careers.