Page Menu
John Haran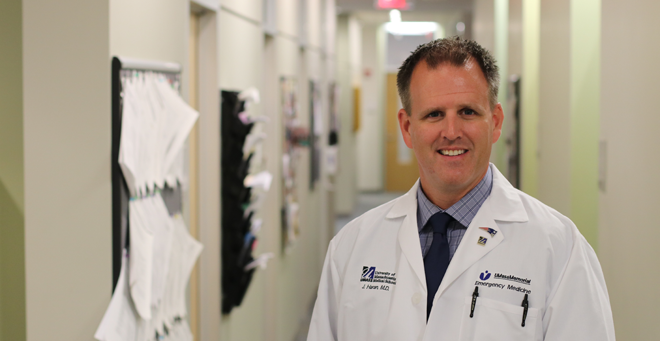 John P. Haran, MD, PhD
Associate Professor of Emergency Medicine
Associate Professor of Microbiology and Physiological Systems
Clinical Director of the Center for Microbiome Research
Dr. John Haran is an Associate Professor of Emergency Medicine and Microbiology & Physiological Systems at UMass Chan Medical School in Worcester Massachusetts. He is Research Director for the Department of Emergency Medicine and is also the Clinical Director for the Center for Microbiome Research and founding member of the Program in Microbiome Dynamics at UMass Chan. He graduated from UMass Medical School in 2007 and completed Residency training at Brown University in 2011. He has been at UMass Chan since then, completing his PhD training in Biomedical Sciences in 2018.
Dr. Haran's research background has focused on investigations into older adult health and associations with microbiome composition and health outcomes in both nursing home and community-dwelling elders. His earlier work had focused on the microbiome and how dysbiosis can lead to increased risk of bacterial colonization and infection.
Dr. Haran has been consistently funded by the NIH with recent National Institute on Aging R01 and Alzheimer's Association foundation grants which focus on the gut microbiomes and the roles they play in the "microbiome-brain axis". He has published findings demonstrating that the intestinal microbiome of elders with Alzheimer's disease have a pro-inflammatory dysbiotic pattern that can induce disruption of the intestinal epithelium homeostasis in in vitro models. He currently leads a team that is enrolling and following older adults with cognitive impairment, collecting longitudinal cognitive data and microbiome data by whole genome sequencing exploring the hypothesis that the microbiome is the driver of immune system dysfunction leading to neurocognitive decline.
Since the start of the COVID-19 pandemic Dr. Haran has been involved in multiple federal and privately funded projects investigating different aspects of this disease. His clinical trial work focused on vaccine, monoclonal antibody, and antiviral trials to prevent or treat COVID-19. He is a leading site in the CDC's vaccine efficacy surveillance network. His most recent published work describes how an individual's oral microbiome composition during early infection can predict which patients go on to develop long-COVID.