Page Menu
A Letter From Our Program Director
Thank you for your interest in the UMass Chan Medical School Gastroenterology and Hepatology Fellowship Program. We hope to give you a glimpse of what it's like to be a member of the UMass Chan GI training program.
Fellows will have the opportunity to work with a multicultural, multiethnic patient population across three campuses, ranging from a non-profit, tertiary care and major academic medical center to a smaller community-based hospital. UMass Chan's central location and its variety of clinical services ensure a catchment area that includes all six New England states and over one million people; and fellows benefit from the pathophysiologic, socioeconomic and cultural diversity. The presence of and partnership with various disciplines–including pathology, IR, and surgical services–allows for a multidisciplinary diagnostic and therapeutic approach to both routine and complex pathologies. After three years of rigorous yet rewarding training, our fellows continue their GI careers at both academic institutions and hospital-based private practices. Regardless of where they establish their careers, our goal is to train exceptional clinicians and collaborative consultants who are focused on delivering outstanding care to their patients, while working to improve the delivery of care through teaching and research.
We are excited to train our future GI and hepatology colleagues. We look forward to working with trainees to support their exploration of GI and hepatology, development into knowledgeable and collaborative clinicians and skilled endoscopists, and acquisition of the academic skill sets in areas of clinical education, translational science, or basic research that allow them to find their niche in the GI community.
Please look around the website to learn more. We hope to see you on your interview trail!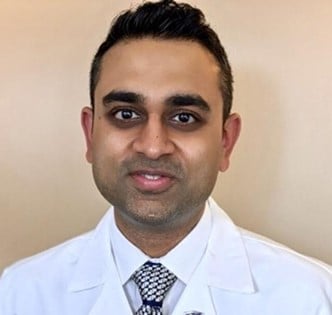 Krunal Patel, MD
Assistant Professor of Medicine
Program Director