Statement of Solidarity by PQHS Diversity Action Committee
Date Posted: lunes, mayo 23, 2022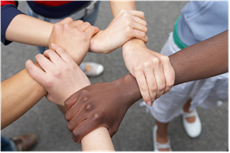 Statement of Solidarity by PQHS Diversity Action Committee on the Mass Shooting in Buffalo, New York
We in the Department of Population and Quantitative Health Sciences (PQHS) Diversity Action Committee join the rest of the nation in expressing our grief and solidarity over the horrendous act of racist gun violence in Buffalo, New York, two weekends ago. We mourn the deaths of the ten innocent victims and pray for/meditate on healing those injured, most of whom are Black Americans. Our hearts are with all those mourning loved ones, communities, and individuals shaken by this latest racially motivated hate crime.
The 10 people who were murdered:
Roberta A. Drury of Buffalo, N.Y. – age 32
Margus D. Morrison of Buffalo, N.Y. – age 52
Andre Mackneil of Auburn, N.Y. – age 53
Aaron Salter of Lockport, N.Y. – age 55
Geraldine Talley of Buffalo, N.Y. – age 62
Celestine Chaney of Buffalo, N.Y. – age 65
Heyward Patterson of Buffalo, N.Y. – age 67
Katherine Massey of Buffalo, N.Y. – age 72
Pearl Young of Buffalo, N.Y. – age 77
Ruth Whitfield of Buffalo, N.Y. – age 86
We are witnessing an epidemic of hate, especially horrific murders by white supremacists, across our country. The attack in Buffalo was motivated by racism, according to the shooter's words, and it was no isolated incident, as evidenced by numerous acts of violence and heinous intolerance we continue to witness.
Racism and bigotry in all forms threaten the lives and physical safety of people of color, minority religions, and other minority populations across our country and world. This terrible event in Buffalo is yet another wake-up call, leading us to work with even greater determination against all forms of racism and bigotry. We must call it out and condemn it, and we must do everything we can to ensure that our communities are safe from such acts.
In PQHS, we "believe that excellence in solving complex public health problems can be achieved through diversity and inclusion…" and we "[recognize] the importance and richness that diversity and inclusion bring to our work and our lives". We encourage you to visit our website (https://www.umassmed.edu/pqhs/diversity-and-inclusion/diversity-and-inclusion-statement/) and join us in our critical work towards fostering the ideals of equality and equity for our department, community, and all others we serve.