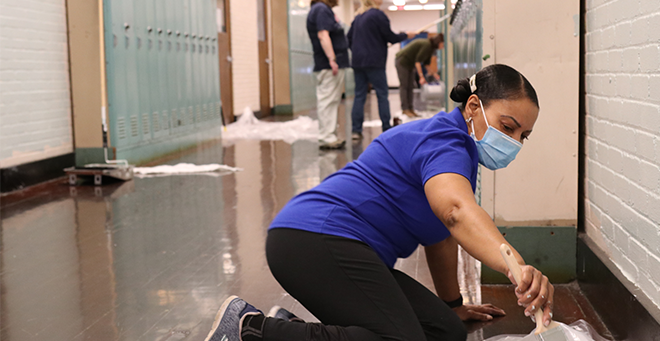 Volunteers from UMass Chan Medical School spent two days painting the hallways of Worcester East Middle School during the December school vacation. The effort was part of the UMass Chan Cares Volunteer Initiative, which provides employees with two days of scheduled work time per year to support their favorite causes and institutions.
"I think that seeing the walls painted and the building looking better and more welcoming will tell students that we think that your education is important," said Worcester East Middle School Principal Carenza Jackson. "They come into a building that sometimes doesn't necessarily reflect that message. So, we want them to know that."
Volunteers included UMass Chan staff members from the Chancellor's Office, the Office of Well Being, Human Resources, Public Safety, the Office of Communications and others.
"To get 20 or so volunteers during a time when most people want to just be home with families and celebrate the new year or have a holiday to celebrate, it's really a testament to the staff and team at UMass Chan. It's great to see the diversity of the volunteers and their departments that show up and represent their offices," said Che Anderson, assistant vice chancellor of city and community relations.
Roughly 750 seventh- and eighth-grade students attend East Middle School. The majority of students identify as high-need and most come from low-income families. According to the Massachusetts Historical Commission, the school at 420 Grafton St. opened in 1924 and is one of the oldest school buildings in the city.
Related media coverage:
Spectrum News 1: UMass Chan Medical School employees paint Worcester's East Middle School
Worcester Telegram & Gazette: Cosmetic procedure
Health Care Today: UMass Chan employees paint Worcester middle school
Related UMass Chan news stories:
Food pantry at Worcester's North High School stocked with support from UMass Chan Cares
Worcester teachers stock classrooms with support from UMass Chan