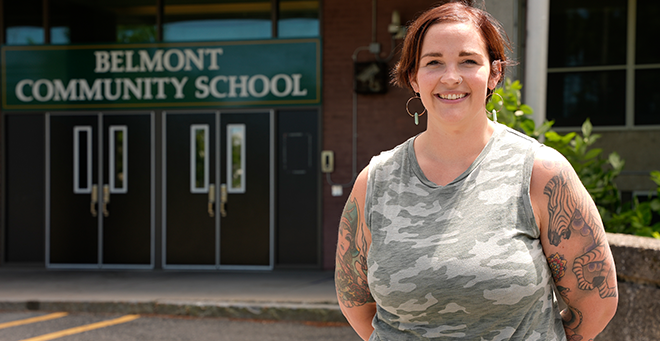 This fall, sixth graders at Belmont Community School in Worcester will be reading new books that reflect their own diversity. The books were purchased with classroom grants from the UMass Chan Medical School North Quadrant Support Services initiative. Reading teacher Erika Schmitt Boyle, MEd, received four mini grants to purchase diverse books, reading and writing supplements, and other classroom supplies.
"Teachers pay for many school supplies from our own pockets," said Schmitt Boyle. "When presented with this opportunity to help my kids, I jumped on it."
Schmitt Boyle is one of 23 teachers at seven schools in the North Quadrant who received the grants for this school year. A total of $38,495 was awarded for 29 proposals of up to $1,500 each.
Grants awarded for grades pre-K through 12 include funding for scrubs for certified nursing assistant students at North High; curricular resources for English Language Learners; a kindergarten field trip to Davis Farmland; graphing calculators for Advanced Placement calculus students; an after-school chess club for tweens; and a family cooking club.
UMass Chan established the North Quadrant Support Services initiative in 2017 with grant funding from the Remillard Family Community Service Fund to address socioeconomic barriers to academic success.
"I select texts that that they'll connect with, that reflect who they are as students and who they are as people, which will make them want to read because the best way to become a better reader is to want to read," said Schmitt Boyle. "I have a lot of struggling readers and graphic novels are accessible for them. These books can increase their interest in reading, which will make them better, and hopefully lifelong readers."
Titles she selected include biographies of Malala Yousafzai and Ruth Bader Ginsberg; Pride: The Story of Harvey Milk and the Rainbow Flag; and assorted picture books and graphic novels.
The grants were funded by students, faculty and staff who directed their UMass Chan Cares charitable campaign donations to North Quadrant Support Services. The North Quadrant Support Services initiative for Worcester Public School students was the top choice of donors during the 2021 UMass Chan Cares Charitable Giving Campaign. The 2022 UMass Chan Cares annual charitable giving campaign will launch on Oct. 31.
"These grants help us to be the best teachers that we can be," said Schmitt Boyle. "Thank you for the opportunity to make my classroom a better place."
Related UMass Chan news stories:
UMass Chan Cares 2021 campaign donations directed to 284 organizations
Worcester elementary students greeted with supply-filled backpacks from UMass Medical School