The new UMass Chan Cares volunteer time-off initiative expands opportunities for members of the UMass Chan Medical School community to serve the broader community. Paid employees can now use up to 16 hours of scheduled work time per year to support their favorite causes and institutions as volunteers.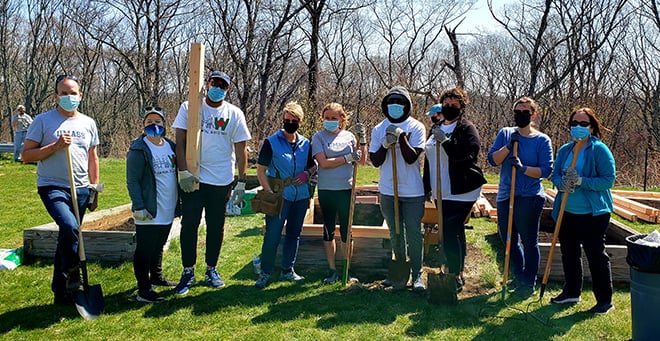 "UMass Chan faculty students and staff have always been very generous in supporting our community financially through the annual UMass Chan Cares employee giving campaign," said John Erwin, vice chancellor for community and government relations. "This new volunteer policy is an opportunity to build on that spirit of generosity and enables people to give of their time and expertise throughout the year."
Volunteer time off can be used to serve hundreds of nonprofit organizations designated by the school and any public school in the commonwealth. Organizations can be added upon request to the extensive list of charities approved by the Office of Community and Government Relations.
"When they announced this program, the first thing that came to mind was New England Healing Associate Sports Association because it was wintertime, and I volunteer as an adaptive ski coach for them," said Kristin Snyder, disability reviewer for Commonwealth Medicine's Disability Evaluation Services. "I think it's terrific that they're offering this benefit because I think it's so important to encourage people to get involved."
Snyder's supervisor, Anne Burtenshaw, readily approved Snyder's volunteer time, and the OCGR quickly added her organization to the approved list. "It was really easy to add my organization," Snyder said.
In addition to facilitating individual volunteerism, Erwin noted that the policy also helps departments to plan and organize group volunteer activities. "It is a great team building opportunity," he said. "It offers a chance for people to get together and engage in the community while so many are working remotely."
Information about how to participate in the UMass Chan Cares Volunteer Initiative is on the Office of Community and Government Relations intranet site and inquiries are welcome at ocgr@umassmed.edu.
Related UMass Chan news story:
UMass Chan Cares 2021 campaign donations directed to 284 organizations