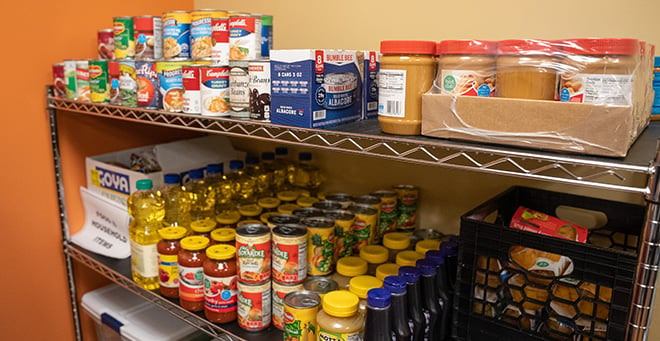 UMass Chan Medical School is helping restock the food pantry at North High School in Worcester, in time for Thanksgiving.
The pantry was built in 2017 by UMass Chan volunteers to provide nutritionally balanced food to students and families challenged by food insecurity in Worcester's North Quadrant. It is part of the North Quadrant Support Services initiative, through which the Medical School works to address socioeconomic barriers to academic success faced by many students in the Worcester public schools.
UMass Chan is providing North High with funds directed to North Quadrant Support Services through employee contributions from the annual UMass Chan Cares campaign.
Adrianna Buduski, wraparound coordinator at North High, said the school recently reassessed the needs of the food pantry to understand how the pantry is being used and how students are accessing items.
"We're really trying to destigmatize using the pantry and letting the students know the pantry is for everybody and accessible, while still supporting our families that have a consistent need," Buduski said.
The school has canned goods, pasta, rice, peanut butter, cereal and other staple items on hand. Buduski said approximately 50 families are assisted regularly through the school's pantry and plans are underway to broaden the scope of the pantry's support to meet the day-to-day needs of its students, including providing more snack foods like granola bars to help students fight hunger during the school day.
Faculty, students and employees can donate to the UMass Chan Cares campaign through Tuesday, Nov. 22. Last year, the campaign raised $216,000.
Related UMass Chan news stories:
Max Baker Resource Center for students facing food insecurity dedicated at UMMS
Worcester Public Schools and UMass Medical School unveil family support services initiative