Page Menu
Ameer Ibrahim, MD, MS, FACEP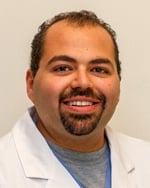 Assistant Professor of Emergency Medicine

Dr. Ibrahim is a board certified emergency physician who joined the UMass EM faculty in May of 2014. Prior to that he worked as an EM physician in Buffalo, NY - both academically with the University at Buffalo as well as at 2 rural community emergency departments an hour outside of Buffalo. He also has experience in the Urgent Care setting. At the University at Buffalo, Dr. Ibrahim was a member of the EM Resident Education Committee. He was also the ED representative on the Corporate Committee on Sepsis at one of the major University hospitals.
Dr. Ibrahim went to medical school and completed EM residency training at the University at Buffalo. He also obtained a Masters degree in Applied Molecular Biology from the University of Maryland, Baltimore County.
Dr. Ibrahim's research and academic interests are in Septic Shock, Resident and Medical Student Education, Trauma, Critical Care, Neurological Emergencies, and Ultrasonography.
How to contact:
Ameer Ibrahim, MD, MS, FACEP
Department of Emergency Medicine
UMass Chan Medical School
55 Lake Avenue North
Worcester, MA 01655
USA
Telephone: (508) 421-1400
FAX: (508) 421-1490
To send e-mail, click here