Page Menu
From one kid's courage comes comfort for others
Family honors daughter's vibrant life by helping pediatric patients and their families in need
Kathy Langlois has one important message to every family that has a child with a serious illness: You are not alone.
For the last 14 years, Kathy and her husband Dan, along with their son Michael, have been backing up that message by raising money in memory of their daughter Kaitlyn, who died in May 2005 after a nearly four-year battle with cancer.
In her short life—she was only 16 when she died—Kaitlyn had impressed and inspired hundreds of people with her courage and determination. So much so, many of those people organized a memorial soccer tournament (Kaitlyn was a star soccer player) to raise money to help Kaitlyn's family meet some of the bills that had piled up during the last few weeks of her illness.
Kathy and Dan deeply appreciated that unexpected generosity and support. In it, they also saw something even more valuable: an opportunity to honor Kaitlyn's memory in a way that she would have appreciated.
So, they decided to raise money in her name to "pay it forward." In 2006, they established the Kaitlyn Langlois Memorial Foundation to help other families dealing with the same challenges. To date, they have raised nearly $430,000 and have supported hundreds of families at UMass Memorial Medical Center and other area hospitals, and within their community.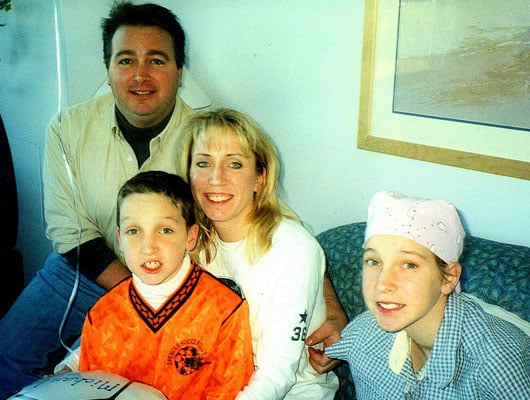 Kaitlyn was 12 years old when she was first diagnosed with a malignant tumor on her shoulder and upper arm. "We were watching her play soccer when we noticed her shoulder was swollen, and she was having trouble with her running posture," Kathy said, "That night, we went to the emergency room at UMass Memorial. That's when we learned about the tumor."
Kaitlyn faced such a struggle with her characteristic courage. "For the entire first year after diagnosis, she underwent chemotherapy and a number of surgeries," Kathy said. "The surgeries left her with little control of her arm, yet her first concern was: 'Will I still be able to play soccer?' It turned out that strapping that arm to her torso allowed her to compete as fiercely as ever."
During the next three years, Kaitlyn went through the usual teenage stuff: entering high school, making new friends, including a serious boyfriend, dealing with classes, homework and tests. She thrived, even though she was riding the emotional rollercoaster of four remissions and four relapses.
Through it all, Kaitlyn looked to the future, giving thought to a nursing career. Helen Mullen, a pediatric oncology nurse at UMass Memorial Medical Center's outpatient clinic, worked closely with Kaitlyn and remembers a wonderful, strong and caring young lady.
"She seemed so much more mature than her years," said Mullen. "She had a front-row seat watching so many of us working with patients and families. We were all deeply touched when she told us that she wanted to become a nurse, too."
Marilyn Tompkins is another nurse who was touched by Kaitlyn's personality. Assigned to the in-patient floor, Tompkins met the entire Langlois family when Kaitlyn was first admitted.
"I will always hold her in a special place in my heart, because she was my very first oncology patient," Tompkins said. "I was terrified of not knowing what to say or do, but they – the whole family – helped me to learn right along with them."
Tompkins wasn't the only one at UMass Memorial who was inspired and encouraged by this family.
"They made it a point to meet other families on the floor," she said. "You always knew when Kaitlyn was an in-patient because the laughter and antics from her room brought happiness to the entire floor. The door to that room was always open and everyone was welcome."
In 2005, the Langlois family decided to support families like theirs. They turned to Mullen and Tompkins for advice on how to go about it. It was clear they would need referrals of families who needed help, but they soon learned that patient confidentiality regulations prevented them from knowing even the names of those families. As a result, giving "advice" became an ongoing role—now 14 years and counting—for both nurses.
"We really rely on their judgment," Kathy said. "We usually make our grants between Thanksgiving and Christmas—Kaitlyn loved Christmas and she would have enjoyed being a Secret Santa—but we talk with Helen and Marilyn all year. That way, if either of them tells us about a family that needs some support right away, we will step up to the plate."
Kathy explained that support for families usually comes in the form of gift cards in amounts between $300 and $600.
In the early years of this family foundation, an annual memorial soccer tournament called "Kicks for Kaitlyn" raised money for most of the grants. In 2014, the main fundraiser became an annual dinner dance called "Kick Up Your Heels for Kaitlyn's Kids," which helps the Langloises engage and involve more people.
"That's important too, because the more people who get involved, the more families we can help," she said.
Looking ahead, Kaitlyn's beloved brother Michael has already begun to take on some of the work that his parents have been doing.
"He's always telling me to delegate!" said Kathy. "He keeps things fresh and has ideas for other ways to raise funds. When he turned 18, we made him one of the foundation's directors and have since made him vice president."
Michael was only 13 years old when Kaitlyn died. "She wasn't just his big sister," Kathy said. "She was his best friend, always there to play with him, always ready to stick up for him. He saw her as a strong-willed person, someone who perseveres. He knows that she dreamed of being able to help others in need. Michael has made it his mission to keep that dream alive."
Visit the Kaitlyn Langlois Memorial Foundation online for more information.